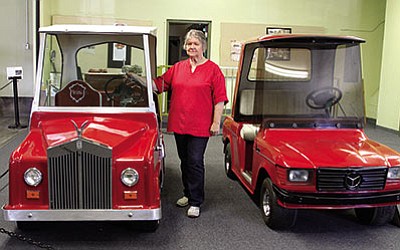 Originally Published: June 29, 2016 6 a.m.
Diane Silverman, Kingman Visitor Center gift shop manager and information supervisor, stands Friday by electric golf carts once owned by Willie Nelson (left) and Waylon Jennings.
Below, she holds a photo of Waylon Jennings and three other people standing by his electric golf cart.
The vehicles are part of the collection at Kingman's Route 66 Electric Vehicle Museum, which is located at 120 W. Andy Devine Ave.
For more information, call 928-753-9889.