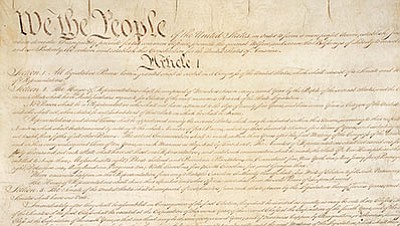 Originally Published: March 1, 2016 6:02 a.m.
This is a comment/rebuttal to Linda Varon's letter on prayer dated Feb. 28:
Just as the phrase "cleanliness is next to godliness" does not appear in the Bible, neither does the phrase "separation of church and state" appear in the U.S. Constitution. Here is what it actually says: "Congress shall make no law respecting an establishment of religion, or prohibiting the free exercise thereof; or abridging the freedom of speech, or of the press; or the right of the people peaceably to assemble, and to petition the Government for a redress of grievances."
I think we all need to take refresher course in civics. The government has no right to establish an official religion, nor can it legally keep people from practicing the religion of their choice in a legal manner. If prayer is part of the free expression of religion, no one has the right to tell someone they cannot pray, which is also part of freedom of speech.
If you don't want to pray, then don't participate.
Nancy Tybroski
Kingman
More like this story