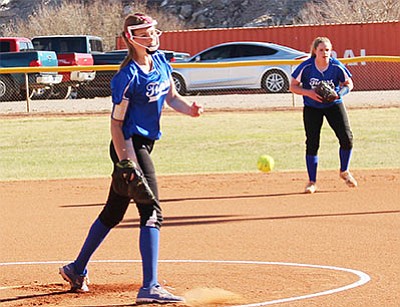 Originally Published: March 2, 2016 6:02 a.m.
KINGMAN - Sophomore southpaw Maryssa Edwards had a solid outing in the circle for the Kingman Academy softball team, but the Lady Tigers' defense let her down in Mohave's 9-3 win Monday at Southside Park.
Edwards pitched a complete-game seven innings and surrendered nine runs - only three earned - on eight hits and two walks. She struck out five in taking the loss.
"Maryssa threw a hell of a game," said KAHS softball coach Tim Pena. "I'm really proud of her."
Most of the damage came in the top of the seventh when Mohave (2-0) came to bat with the game tied, 3-3. Four hits, including Jordan Lakes' lead-off home run, a walk, a hit batter and two Academy (1-1) errors amounted to six runs for the T-birds to put the game out of reach.
"We're right there," Pena said. "I'm confident in the direction we're going. The ladies have bought into the program and are working hard every day, and as long as we keep battling like today but minus some of those mistakes (we'll be okay)."
The Lady Tigers scored all three of their runs in the third inning when they erased a 1-0 deficit and took a 3-1 lead. Ashteyn Whirlow opened the inning with a double to left field, and then Jillian Winters singled her over to third.
That set the table for Shaunti Short, who sizzled a line drive on an 0-2 fastball straight over the center field fence.
Academy smacked seven hits in the game. Short finished with two, and Jessica Plew went 2-for-4. Kassidy Campbell also singled for the Lady Tigers.
"We've got to get the sticks going," Pena said. "I think the girls were overthinking a little bit at the plate. They just need to let things happen - see the ball and hit it."
Academy played Lee Williams (1-1) Tuesday. Results were not available by deadline.
The Lady Tigers next play Agua Fria at 3:45 p.m. next Tuesday at Southside Park.