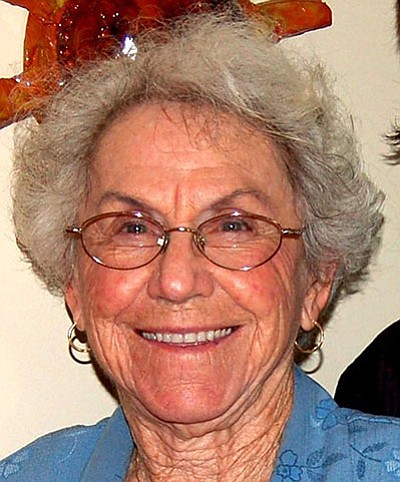 Originally Published: March 4, 2016 6 a.m.
Nominated by Valerie Collins
Alice Longwell is almost 97 years old, a war bride and has resided in Kingman since 1967 until very recently. She has donated nearly 50 years of volunteer service in many areas including, but not limited to, the Girl Scouts, Food Bank, Altar Society, St. Vincent de Paul and time as a St. Mary receptionist. During WWII she worked for the Adjutant General's Office, notifying families of war casualties. She also worked many years for the Mohave County Treasurer's Department.
Women Making History
KINGMAN - March is Women's History Month and every year the Women Making History Committee honors women in the Kingman area who have made a sustaining contribution to their community. Women have been nominated each year since 1984 by other members of the community, with over 200 women receiving the award in that time. Winners are decided by committee in a variety of categories and receive recognition at a ceremony at the Mohave Museum of History and Arts, 400 W. Beale St.
This year's ceremony will be held at 2 p.m. Sunday. The public is invited.
This year's winners are: Doreen Arnold for Education, Billy Jean Griffith for Pioneering, Lilia Bumbullis for Public Service, Casey Farrell for Volunteerism, Robin Gordon for Arts, Anne Riley for Business, Kalai Roberts for Professions, Kathleen Zach for Religion, Anna Shuffler for Health/Medical Professional and Alice Longwell for Lifetime Achievement.