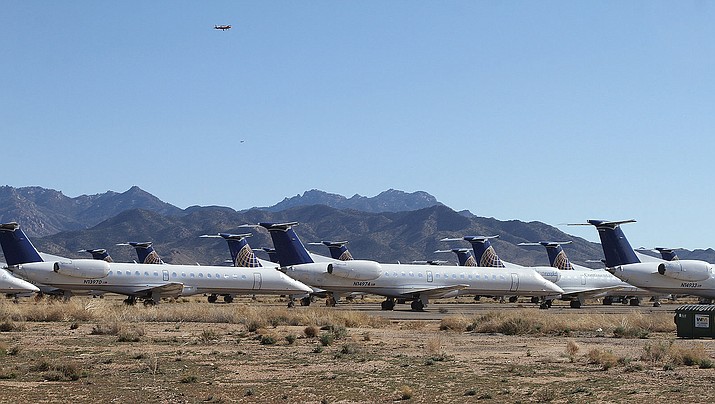 Photo by JC Amberlyn.
Originally Published: March 6, 2016 6 a.m.
KINGMAN - If there's a visual sign America has not fully rebounded from the Great Depression, that picture exists for all who care to see at the Kingman Airport.
That is where about 300 airplanes, most of them small passenger jets, sit in storage, like statues.
"All of the stored aircraft are the result of a poor economy," said Bob Riley, director of economic development at the Kingman Airport and Industrial Park.
"People would be flying if the economy was better," he said. "What's really going on with the economic condition is it requires storage. This allows airlines to restructure. They have all their big planes flying now."
Airlines, said Riley, operate on a hub system. The aircraft being stored in Kingman are the smaller 35-50 passenger jets that typically fly fixed routes no longer than 200-300 miles. This is opposed to the cross-country routes larger aircraft fly. In other words, the shorter spokes have been removed from the hub.
Riley also said the customers are not individuals, but leasing companies. "Nobody owns their own commercial jet anymore," said Riley. "It's all leasing companies and each aircraft might have 15 different parties on the lease."
And like many things, the economy can be remarkably discriminating on which type of aircraft gets grounded in a downturn.
"This isn't new," said Riley. "Storage picked up 10 years ago when we had a bunch of propeller-driven aircraft in storage. Now it's jets. Twenty years ago we had a very large fleet of large jets. It's a fluctuating business."
There is a silver lining for the airport. "We charge a tie-down fee and right now we're doing well," said Riley with a small laugh. "It's fun to see all the aircraft out there, but it would be better if they were flying. We could all go on vacation."
The tie-down fees are $100 a month for propeller-driven airplanes and $200 a month for jets, he said. That translates to about $50,000 a month, at this moment in time, going into airport operations and maintenance, based on Riley's belief there are 260 airplanes in storage.
That's about 40 fewer than Kevin Dolan, the president of the storage company that maintains the aircraft said are there, a figure that translates to $60,000 a month. A portion of those fees, Riley said, will go into the $2 million resurfacing of the apron and Taxiway C set to begin in a couple of weeks.
Kingman Airline Services, an aircraft storage and maintenance company that has been in business at the airport for 23 years, is handling the aircraft, the number of which is a moving target.
"We've got 300 aircraft on the ground, but they go in and out daily, weekly," said Dolan. "Business depends on the economy."
Dolan noted that Republic Airlines just filed for bankruptcy. He said his company will get some of Republic's airplanes, but others will leave after they are requested by Republic's leasing companies.
And while 300 stored airplanes seems high, Nolan said it's "slightly below the peak" of the company's experience. "It can be seasonal," he said. One agency could take 20 to 30 planes at one time.
That's where Kingman Airline Services provides value to customers. The company not only stores aircraft, its employees maintain them from "nose to tail," as Nolan put it. About 70 members of the company's Kingman-based workforce of 100 fall into an aviation category, said Nolan. They've been to special schooling and are certified to perform certain jobs on the airframe and power plants, including changing engines. It can be tough, with most of the work being done outside where the planes are parked.
Nolan said 99 percent of the aircraft could be ready for flight within a week, two at the most in special cases, something that keeps him in business even when the economy is soaring.
"We're always looking for new business," he said. "I market our services at conventions in the aviation-related field. We do good work."