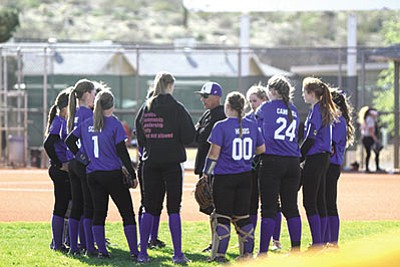 Originally Published: March 10, 2016 6:02 a.m.
KINGMAN - After two innings, it looked as though the Kingman Academy softball team was on its way to a third consecutive loss. However, the Lady Tigers awakened and erased a 7-1 deficit by scoring 14 unanswered runs to grab a Division III win over Agua Fria Tuesday at Southside Park, 15-7.
"We just started hitting," said KAHS softball coach Tim Pena. "Our defense needs more work, but I am proud of the way we battled back."
Jessica Plew relieved Maryssa Edwards in the third and held Agua Fria (0-1) scoreless the rest of the way to get the win. Ashteyn Whirlow hit a solo home run for the Lady Tigers, and Shaunti Short, Stephanie Scott and Abbie Boss each collected three hits.
Academy (2-2) next plays at Holbrook (1-2) at 1 p.m. Friday.
BASEBALL: Betty Fairfax 12, Kingman 6
At KHS, despite Anthony Pinto's three-run home run in the bottom of the sixth for Kingman, the Bulldogs caved to Betty Fairfax in Division III action Tuesday, 12-6.
Pinto's smash closed Fairfax's lead to 8-6, but the Stampede sent 10 batters to the plate in the seventh and scored four more runs. Kingman (1-1) went quietly in its half of the seventh.
Colton Stanley had two singles and scored three runs for the Bulldogs. Garrett Stephens returned to the lineup after spraining his ankle on Feb. 24 sliding into second base. Stephens went 2-for-4 and scored a run.
Kingman begins play at the River Valley Route 66 Baseball Classic Thursday.
Lee Williams 12, North Canyon 4
At NCHS, the Volunteers won their second consecutive game to improve to 2-1 after taking down North Canyon (1-3) Tuesday, 12-4. Lee Williams hosts Agua Fria (0-3) at 3:45 p.m. next Tuesday.
Academy 9, Agua Fria 8, 9 innings
At AFHS, Kingman Academy scored twice in the ninth inning and stranded Agua Fria's tying run in the bottom half for a Division III win in Avondale Tuesday, 9-8.
Quentin Lopez walked and later scored on a wild pitch, and Donnie Tatham was hip by a pitch with the bases loaded for the final two Tiger runs.
J.J. Griffith picked up the win for the Academy (1-1) with 6 2/3 innings in relief. He gave up four runs, two earned, on eight hits and a walk. He struck out nine.
Griffith led the Tigers at the plate with three singles and two RBIs. Kannon Butler singled twice and also drove in two.
Academy next plays at Bourgade Catholic (3-1) at 4 p.m. Tuesday in Phoenix.
GIRLS TENNIS: La Joya 6, Kingman 3
At KHS, Kingman's Martha Aguilar came from behind at No. 3 singles for a 1-6, 7-6 (6), 11-9 win against La Joya Tuesday. The Lobos (2-2) took the team win, 6-3.
Shannon Brown and Reeta Sihock won at No. 2 doubles for Kingman (0-4), 8-5, and Jessica Pebley and Holland McLean took the No. 3 doubles match, 8-6.
The Lady Bulldogs next play at Lake Havasu (1-1) at 1 p.m. Friday.
More like this story