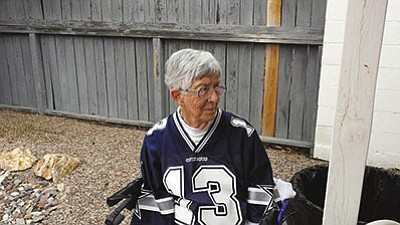 Originally Published: March 10, 2016 6:02 a.m.
In loving memory of Joyce Ann Gode, 82, of Kingman. Joyce passed away peacefully on Feb. 21, 2016, after a short illness. She was born in Texas on Nov. 15, 1933, to Otto H. and Minnie D. Bingham.
Joyce married Gordon "Gene" Gode March 7, 1952. They would have been married for 64 years.
Joyce was involved in the Cub Scouts and Boy Scouts of America while her three boys were growing up in San Dimas Cyn, Calif.
Joyce loved to sew, read and garden. She enjoyed football, the Dallas Cowboys and the penny slots in Laughlin.
Joyce worked for many years in the finance business. She and Gene retired in Dolan Springs in 1991 and then moved to Kingman in 2013.
She was preceded in death by her parents and her brother, Alton Bingham of Pahrump, Nev.
She leaves behind the love of her life - her husband Gene - and three sons, Art (Janet) of Kingman, Mitchell (Judy) of Kingman and Jerry of Fort Garland, Colo.; a granddaughter, Cassy (Brian) of Arlington, Texas; a grandson, Clinton of Kingman; a sister, Faye Benson, of Grants Pass, Ore.; two great-granddaughters; and nieces and nephews.
Her granddaughter, Cassy, wrote that her "Nana" (Joyce) was forever vibrant, beautiful, feisty, stubborn, fiercely loving and supportive.
Joyce will be missed by all who loved her.
Services for Joyce will be held at Cornerstone Baptist Church, 4220 N. Sierra Road in Kingman, at 10 a.m. March 12.