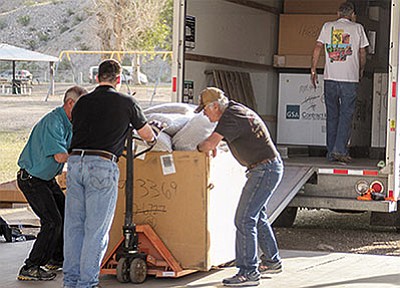 Originally Published: March 11, 2016 6:02 a.m.
KINGMAN - Signs continue to crop up showing a public-private effort to reduce the number of homeless veterans in Mohave County is paying dividends.
For the first time in its four-year history, volunteers at the Tri-State Veterans Stand Down held last weekend in Bullhead City assisted fewer homeless veterans in Mohave County with critical needs and far more veterans who were there simply to take advantage of any number of resources.
"This indicates that the programs that are in place are becoming more widely known and that the rapid rehousing resources are doing an excellent job," said Pat Farrell, president of the Jerry Ambrose Veterans Council and one of the leaders of the annual stand down events.
Farrell said 42 homeless men and one woman were assisted. Veterans considered at risk included 105 men and 15 women, other veterans there to get help from one of 78 providers numbered 207 men and 14 women for a total of 384, 27 more than attended last year's stand down.
Farrell said 130 volunteers worked for the 78 resource and service providers and performed other duties, including preparing 1,280 meals for veterans and their families. More than 50 pets were provided services.
"Overall, it was an incredible event as assistance was provided to those in need," said Farrell in an email. "A hearty thank you goes out to all who participated in any way."