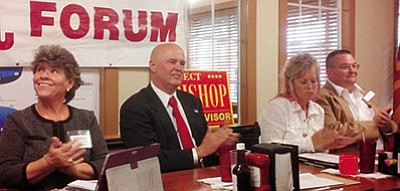 Originally Published: March 13, 2016 5:59 a.m.
KINGMAN - Mohave Republican Forum President Laurie Voss Barthlow's words proved prophetic Wednesday night before four candidates for the District 4 Mohave County Board of Supervisors seat addressed another overflow audience at the Golden Corral.
"It takes courage to get out there," said Barthlow in thanking the candidates - those set to speak and those in attendance. "Politics today is not for the faint of heart, no matter where it is."
Wednesday's Forum mirrored the presidential election insofar as attacks against candidates who represent the establishment, and therefore the status quo, and those who consider themselves outsiders.
Incumbent Jean Bishop, chairwoman of the board of supervisors, faced constant criticism, not the personal kind, but as a member of the board.
Golden Valley residents Rick Armstrong and Krystal Gabrielson and Kingman area resident Mervyn Pitchfork Freedom each had harsh criticism for the state of the county.
"I ran because I didn't want to be a person who just complains," said Armstrong, manager of Superior Tire in Golden Valley. "I said, 'I want that job.' I will work for you, not the county or state. I will represent taxpayers, who have been so misrepresented for so many years."
"Every ship needs a captain," said Freedom when candidates were asked about the role of the county administrator. "But we had a county manager who thought he was an admiral."
"When you talk about economic development, you have to move under it," said Gabrielson. "I was devastated what it took to get a permit for my small excavating company.
"I was devastated after we bought (Westside Disposal) and expanded. We had to go through so many hoops for a rezoning."
"They don't know what they don't know," said Bishop of the candidates.
District 4 covers a lot of ground and, proportionate with the four other districts in the county, is home to roughly 42,000 people. The district includes parts of northern Kingman, all of Golden Valley, up U.S. 93 to Hoover Dam, including Dolan Springs, Meadview, Chloride and White Hills; Stockton Hill Road from U.S. 93 up to northern Kingman, Oatman and the Hualapai Mountains.
Here's a few key questions, some uniquely suited to the rural district, and how they were answered:
Where do they stand on farming, specifically in terms of water usage and dust control?
Barthlow mentioned a Saudi Arabian company, Almarai has purchased 10,000 acres in La Paz County and is growing hay. There are unconfirmed reports the water table there is lowering. Las Vegas developer and Red Lake farmer Jim Rhodes' project in Golden Valley has also raised concerns about the water table and dust.
Freedom: "How much of your dinner was grown locally? We don't have a lot of farms. Everything is trucked in."
Freedom recounted his days as a UPS manager in Kingman and how there were always more packages coming in than going out, a sure sign, he said, of an ailing economy.
He said water must be conserved, but he supports agriculture. "We need farms," he said.
Gabrielson: The Golden Valley business owner expressed outrage how little control over water exists in Mohave County.
"It will take strong supervisors to fight the state and take our water back. I will work with people to get us there."
She supports small farms, saying she goes into her backyard for eggs and milk.
Armstrong: The combat veteran said a better job inventorying the county's water supply must be done. He supports farms. "Farms feed people."
Bishop: Water continues to be a hot topic throughout Arizona, she said. Bishop said hope could be on the horizon after Gov. Doug Ducey divided the state into 22 different water planning areas.
"I have asked to have Mohave County at number three behind Cochise and La Paz counties," she said. "We're all trying to work together to solve it."
What is the county's role in economic development?
Bishop: State law prohibits local governments from offering incentives to businesses interested in Mohave County, she said.
Other competing states, such as Nevada and California, do offer incentives, mostly in the form of free or discounted land. The prohibition is hurting Arizona, said Bishop.
"Right now, we have 20 companies interested, but they're looking for incentives and we don't have any incentives to give," said Bishop. "We can't give them tax money."
Bishop said supervisors are waiting to see what the state will "sweep" when it comes to shared revenue - gas tax, known as Highway User Revenue Funds, for example - and work with Mohave Community College to train the county's "very limited" workforce.
There is an economic development department, which she described as a one-man shop ran by Bennett Bratley, who does a "fantastic job."
Armstrong: He doesn't agree with Bishop's take on Bratley's performance. "If you're not doing your job, you need to lose it," he said.
"We're worried about putting people back to work not, 'can we make them a little deal.'"
Armstrong said the county is "aging" and needs to attract younger people and families. "I will fight for incentives," he said.
Gabrielson: She explained how much trouble she had getting the necessary permits to start a small excavating company, which did not end well, and to rezone the next family business, this one the successful Westside Disposal in Golden Valley.
For Gabrielson, the best way to attract new businesses and the jobs they bring is to streamline the system so people don't have to spend a fortune and jump through an unreasonable number of hoops.
Freedom: "Look at the agenda," he said, pointing out the question asked if a new economic development firm should be hired.
"Do we really need another agency?" he said. "I don't want to cry about a bunch of stuff, but we need them out. They keep people from the American dream."
Freedom said it isn't lower wages U.S. companies are interested in when they move operations out of the country thanks to international trade deals, such as the recently ratified Trans Pacific Partnership, TPP.
Freedom said companies move because "it's easier to do business in foreign countries that don't have all of the hoops."