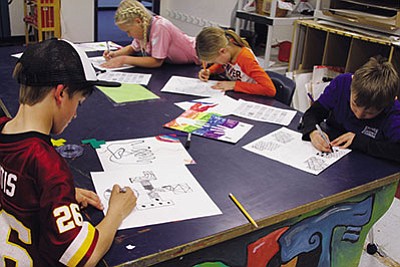 Originally Published: March 13, 2016 6 a.m.
Kingman Academy of Learning Intermediate School has been sending some students to the high school once a week for about 35 minutes to gain an understanding and appreciation for art this semester.
Here, Mrs. Rucker's fourth-grade class learns about patterns and variety as part of a program designed to teach about lines, shapes, color theory, and other fundamentals of art.
The program for the intermediate students will probably not be continued next year.
From left to right are Alec DeLong, Sahirah Fensterbush, Linnea Gustafson and Jackson Davis. Donna McCarthy is teaching the art class.
"Arts and academics are like yin and yang. Academics teaches students what to think, arts teach them how to think," she said.