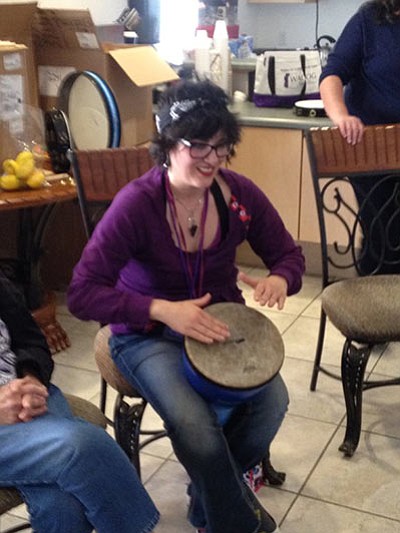 Originally Published: March 15, 2016 6 a.m.
Long practiced by indigenous cultures worldwide, drumming to promote physical and emotional health has come to Kingman through the efforts of self-styled "foodie, artist and animal lover" Dusti Yamaguchi and the Western Arizona Council of Governments, a nonprofit organization that sponsors volunteer-driven community service.
"Drum circles are not only healing and empowering but are delightfully fun," said Yamaguchi. "The primal need to strike something to produce noise is universal and drumming is a great way to relieve stress. It really feels like I'm helping to make a difference in the world simply by helping people to find their smile. It makes me happy."
According to Yamaguchi, anyone can participate in drumming and she believes that everyone has rhythm. "If you breathe in and out, that's rhythm. If your heart beats, you've got rhythm. In a drum circle there are no mistakes. Everyone plays their part exactly right. Drum circles bring people together without words. It's amazing because after people play together for a while, they sync up in the same way that a flock of geese flaps their wings on the same beat. It's a magical feeling."
Yamaguchi's personal passion for drumming led her to approach WACOG Volunteer Coordinator Melinda Kemp for information on how to become involved in HealthRhythms, a recreational drumming group.
"I was browsing the flyers and community announcements at the Kingman Library," said Yamaguchi. "I didn't know anything about HealthRhythms or WACOG, but I knew that I wanted to participate."
According to Kemp, the group was looking for a facilitator when Yamaguchi called, so Kemp directed her to the WACOG website to complete a volunteer application.
"A few weeks later, we met for an interview and I knew Dusti was a perfect fit," said Kemp.
Through WACOG, Yamaguchi was trained in the HealthRhythms protocol developed by Remo, a manufacturer of professional percussion instruments. This system used research from Harvard and Duke Universities and the Cleveland Clinic that studied the physical, emotional, social and cognitive benefits of group drumming. After attending hands-on training sessions and meeting with other facilitators, Yamaguchi was ready for her first group.
According to the company, HealthRhythms groups are meeting all over the world in a wide variety of settings, including schools, senior centers, mental health and addiction recovery clinics, hospitals and nursing homes. Yamaguchi's first group was hosted by a local "senior living" community designed for people age 62 and older.
"There's a real social problem in our culture because older people are often left alone - even institutionalized - so this is a demographic that often experiences loneliness and isolation. Lack of human connection can lead to disease, depression, anxiety and addiction. Group drumming is a way to foster authentic human connection," said Yamaguchi. "Programs like HealthRythms have an immediate and obvious impact on the community."
Currently, WACOG is offering HealthRhythms groups free of charge and instruments for up to 24 participants are provided. For more information on this and other WACOG programs, contact Melinda Kemp via email at melindak@wacog.com or at 928-782-1886.
Individuals ages 55 and older seeking volunteer opportunities, and nonprofit agencies in need of volunteers, are invited to contact Eve Hanna at 928-220-5177 or via email at Eve.Hanna@nau.edu for more information on RSVP, the Retired Senior Volunteer Program, administered by the Civic Service Institute of Northern Arizona University.
More like this story