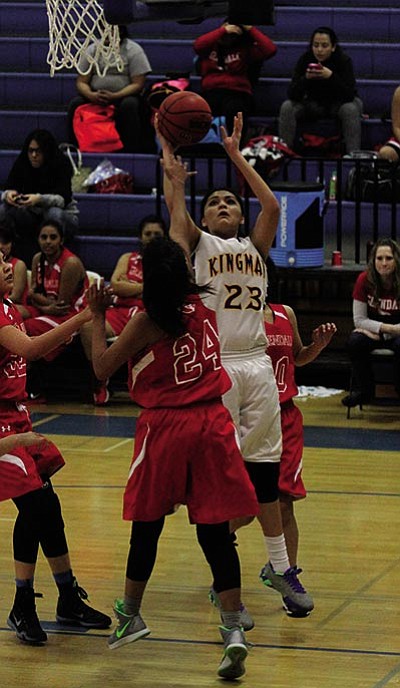 Originally Published: March 16, 2016 6 a.m.
KINGMAN - For the third consecutive season, Kingman High's Desirae Gonzalez has been named to an all-state all-division first team.
The senior and University of Nevada, Reno-bound sharpshooter was a D-II first teamer the previous two years, and Gonzalez was placed on the All-State All-Division III First Team for 2015-2016. She averaged 27.7 points per game, which led all of Arizona in scoring. Gonzalez pulled down 10.1 rebounds per game to go along with 3.1 steals per game.
Kingman Academy's Cade Martin and Jeffry Chinyere made the All-State Division III Honorable Mention list in boys basketball. Martin averaged 16.5 points per game for the Tigers, and Chinyere scored 12.4.
In Division IV, Kingman's Jordan Dupee and Anthony Pinto, as well as Lee Williams' Giancarlo Narvarte and Braxton Burgess, were named Honorable Mention.
Dupee averaged 13.1 points, 8.4 rebounds and 3.5 assists per game for the Bulldogs. Pinto scored 12.3 and grabbed 9.2 rebounds per game.
Narvarte led Lee Williams with 11.1 points and secured 9.4 rebounds and 4.9 blocks per game. Burgess scored nine points, dished out 3.1 assists and had 3 steals per game.
Gonzalez was named Player of the Year for D-III, Section VI and that included a first team nod. Teammate Makenna Taylor was named to the First Team, and Kim Carroll is on the Honorable Mention list.
Kingman Academy's Jerry Pike made honorable mention for girls D-IV, Section III.
Martin and Chinyere each are on the D-III, Section VI Second Team. Teammates Will Herbine and P.J. Homer are Honorable Mentions.
Dupee and Narvarte were awarded with the D-IV, Section III First Team. Pinto and Burgess are on the Second Team, and Kingman's Tanner Best made Honorable Mention.
Lee Williams boys basketball coach Ray Smith was named Coach of the Year for D-III, Section III. The Volunteers went 15-14 overall and won the Section III Tournament championship, earning an automatic bid to the D-IV state tournament. The Vols went 1-1, reaching the round of 16 before being eliminated by Queen Creek American Leadership.
The Colorado River Region (Kingman, Kingman Academy, Lee Williams, Parker, Lake Havasu, River Valley and Mohave) announced its girls basketball awards. Gonzalez was named Player of the Year and, along with Taylor and Carroll, was named to the first team. Lee Williams' Sadie Snay also made First Team.
The Lady Volunteers' Madi Arave was selected to the Second Team.
Honorable Mentions from Kingman are Courtney Mossor, Keara Tauta and Christina Thames. Chania Scott from Lee Williams made the list.
KHS girls basketball coach Danny Gonzalez was named Coach of the Year. Kingman went 23-6 overall and reached the round of 16 in the D-III state tournament before state champion South Mountain eliminated the Lady Bulldogs.