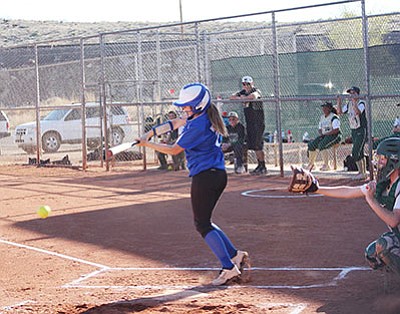 Originally Published: March 16, 2016 6:02 a.m.
KINGMAN - Big leads are like fortunes. They shouldn't be squandered.
The Kingman Academy Lady Tigers nearly let a 6-1 advantage go to the wayside, but responded with four-run sixth and seventh innings for a Division III win Saturday at Holbrook, 15-5.
The Academy (3-2) put the five-run advantage together with three runs in the second, one in the third and two in the fourth before Holbrook (2-3) narrowed the lead to two after five innings, 7-5.
Doubles by Alexis McDade and Jessica Plew, and singles by Kassidy Campbell, Ashteyn Whirlow, and Maryssa Edwards, put the four runs across the plate in the sixth. In the seventh, base hits by McDade, Campbell and Jillian Winters, along with Plew's second double of the game, gave the Lady Tigers their last four runs.
Winters, Campbell, Plew and Whirlow each had three hits in the win. Whirlow had a double and a triple, and Winters added a triple. The Lady Tigers knocked around Holbrook pitching with 19 total base hits.
Plew earned a complete-game win in the circle. She pitched seven innings and surrendered the five runs, none earned, on eight Lady Tiger errors, seven hits and one walk. She struck out five Roadrunners.
The Academy takes a short break from the regular season and plays in the Coca-Cola Invitational Friday and Saturday at Centennial Park.
More like this story