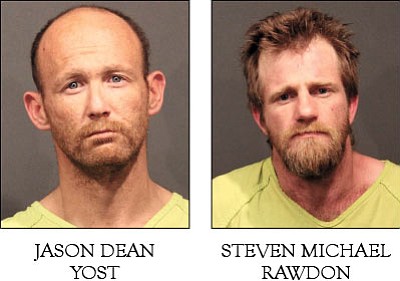 Originally Published: March 17, 2016 6 a.m.
KINGMAN - Two suspected thieves were arrested late Sunday after Mohave County Sheriff's deputies spotted them riding bicycles without proper lighting and wearing dark clothing in northern Kingman about 20 minutes before midnight Sunday.
Jason Dean Yost and Steven Michael Rawdon, both 36 and of Kingman, were taken into custody after they allegedly attempted to evade deputies by jumping a gate into the backyard of a home in the 4400 block of Roosevelt Street.
Deputies pursued and ordered both men to get on the ground.
The men reportedly told deputies they ran because both had misdemeanor warrants for their arrest, but those warrants were the least of their problems.
A search of Yost allegedly revealed he possessed two plastic bags, one containing a white crystal substance and the other white residue. They also heard police transmissions from a mobile scanner Yost allegedly carried in his jacket and reported finding a set of gloves, a beanie, a knife and a cloth with eye holes cut out.
A search of Rawdon allegedly revealed wrenches, screwdrivers, a flashlight, gloves, several sets of keys, cloth with eye holes cut out and a glass pipe with residue.
Bolt cutters were allegedly found attached to each bicycle.
Yost was arrested on felony charges of possession of burglary tools, possession of dangerous drugs, possession of drug paraphernalia, a misdemeanor charge of trespassing and a misdemeanor contempt of court warrant issued by Kingman Justice Court. Rawdon faces the same felony charges, along with misdemeanor contempt of court and failure to pay fines warrants issued by Kingman Municipal Court.
Rawdon has served two terms in prison, one for burglary and one for robbery. Yost has a lengthy but relatively minor record, according to court records.