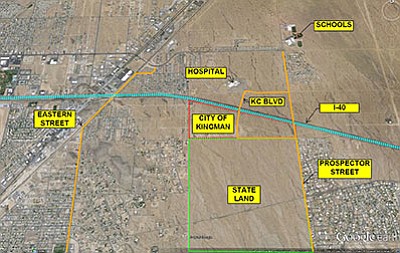 Originally Published: March 18, 2016 6 a.m.
KINGMAN - The City Council, in a rare 3-2 vote, chose Prospector Street as the spot for the next Interstate 40 crossing rather than Kingman Crossing Boulevard.
While the decision makes sense from a logistical and, to a lesser extent, a financial perspective, Mayor Richard Anderson is concerned Kingman Regional Medical Center might back away from sharing in the cost of constructing a future traffic interchange near its Hualapai Campus.
City staff recommended Kingman Crossing Boulevard for a couple of reasons. One, using Kingman Crossing would contribute to the ultimate construction of a traffic interchange at that site and, two, it would cut about $7 million from the more than $19 million cost to construct the interchange, which would give Kingman a fourth I-40 access point.
The option the shorthanded Council chose - members Jen Miles and Mark Abram were not in attendance - calls for construction of a crossing under the freeway at Prospector instead.
Vice Mayor Carole Young and Councilmen Larry Carver and Ken Dean voted for this option at an estimated cost of $6.6 million, the lowest of five alternatives and $3 million less expensive than Kingman Crossing. Also, Prospector Street offers a straight shot north across Airway Avenue to White Cliffs Middle and Desert Willow Elementary schools. A significant number of children who attend those schools reside south of the interstate. In the meantime, Eastern Street is carrying a heavy traffic load, as it is the closest street motorists can use to get past the interstate.
Kingman Crossing, however, would end at state land and force drivers to either go left or right until, and if, the state grants the city a right of way that would essentially split its property in half.
Eastern Kingman is the fastest-growing area of the city and Anderson said many of the people moving there are senior citizens who "bring their health issues" with them.
"We need the hospital to expand," he said, referring to KRMC's Hualapai Campus.
Anderson said there are three priorities behind the need for another freeway crossing: improved access for motorists and emergency responders, access for KRMC before it can become a full-fledged hospital, and the future Kingman Crossing retail development the city needs to boost lagging sales tax revenue.
"My option is (Prospector Street)," said Young. "I would prefer the developer pay for Kingman Crossing." Young also said Prospector is the safer option, with the least expensive rights of way costs and flood plain issues.
"My concern is how quickly the hospital can expand," said Anderson.
City Manager John Dougherty addressed the issue of poor access to the area for emergency responders, which has increased response times to almost unacceptable levels.
"The fire chief has no intention of putting in another station until there is north-south access across the 40," said Dougherty. "We know we're going to grow toward Rancho Santa Fe (Rattlesnake Wash to the east), but if we put in Kingman Crossing it cuts costs for the developer and makes it more of a jewel for a developer to look at."
Dougherty also pointed out that Fire Chief Jake Rhoades has dismissed the possibility of building a fire station near the two schools.
"There's too much congestion," said Dougherty. "We don't want to compete with kids at any point in time."
Dougherty mentioned Rancho Santa Fe, which has been designated as Kingman's fifth traffic interchange on I-40, after resident Doug Dickmeyer argued that location would make more sense as it would improve access to the Kingman Airport and Industrial Park. There is no infrastructure in place to justify Rancho Santa Fe, he said.
Carver said Prospector Street was the best option as it is the least expensive, would open a north-south access across eastern Kingman that would reduce traffic on Eastern Street, and avoid leapfrogging construction to Rancho Santa Fe, where there are currently few roads.
While Anderson kept noting how important it is to improve access for KRMC, nobody from the hospital attended Tuesday's meeting to lobby for the Kingman Crossing option.
"Perhaps we should communicate with the hospital and see how this will impact their development," said Anderson.
"This might incentivize them to help pay for it," said Young.
"If they need it that bad, they can foot the bill," said Dean.
Young recommended Prospector Street and the vote was split 3-2 with Anderson and Councilman Stuart Yocum voting nay. Following the meeting, Anderson told the Miner his fear is that KRMC will now withdraw its tentative agreement to contribute to the Kingman Crossing interchange, which he said is between $2 million and $3 million.
"They just might back out now," Anderson said. "We might invite them to come talk to the Council."