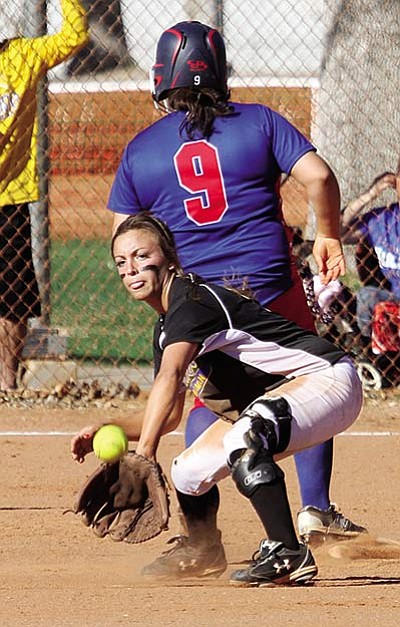 Originally Published: March 18, 2016 6:02 a.m.
KINGMAN - Eight high school softball teams look to gain momentum this weekend to take into the heart of the regular season. Those teams do that at the annual Swire Coca-Cola Classic hosted by Kingman High School beginning today and ending Saturday on Fields 1-4 at Centennial Park.
Each team gets three pool games to determine seeding for Saturday's championship bracket. The Blue Pool consists of Kingman, Window Rock, Bullhead City MALC, and Henderson, Nev., Basic.
The Gold Pool houses Lee Williams, Kingman Academy, Lake Havasu and Parker.
The Kingman Lady Bulldogs (3-6) come into the tournament needing to get some wind in their sails. And they usually do well at their own tournament, including last year's second-place finish, going 4-1. Kingman's bats have been quiet of late and this is a great chance for the Lady Bulldogs to wake them up.
Lee Williams (3-2) could be a tournament favorite. The Lady Vols won last year's Consolation Championship over Kingman Academy, going 4-1 for the tournament. This is a great opportunity for the Lady Vols to dial in their pitching. They've allowed 11 and 10 runs in their losses.
Kingman Academy could wind up winning this thing. The Lady Tigers (5-3) are young but very talented. They went 4-2 last year, and if they get confident they'll catapult toward the top.
The Window Rock Fighting Scouts (2-4) are always a pesky team. If they're taken lightly, the Scouts will make someone pay.
The Basic Wolves (0-2) come to Kingman looking for success. The Wolves went 6-22 last season and have already given up 25 runs this season in their two losses.
Division IV MALC (3-1) has built a solid program over the years. They've scored more than 20 runs in their three wins, and the Patriots' only loss was 1-0 to Needles, Calif.
Defending champion Lake Havasu (4-3) always comes to play. If the Knights are going to get knocked off, expect them to go down fighting.
The Parker Broncs (0-5) are simply struggling. They've yet to score this season, and their opponents at the tournament should see their bats heat up.
Pool Play action starts today at 4 and 6 p.m., and the last pool game is at 8 a.m. Saturday.
Bracket play then begins at 10 a.m., with the semifinals at noon and the championship at 2 p.m.