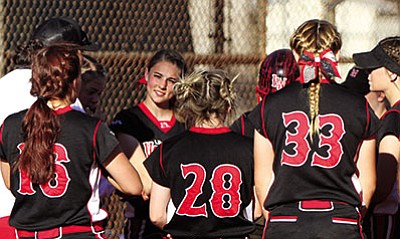 Originally Published: March 20, 2016 6 a.m.
KINGMAN - After Friday's rounds of pool play at the Swire Coca-Cola Softball Invitational at Centennial Park, Lee Williams and Henderson, Nev., Basic remained the last of the unbeatens.
Lee Williams (3-0) grabbed control of the Gold Pool and its No. 1 seed for Saturday's championship bracket play. The Lady Vols began Friday by run-ruling Lake Havasu, 11-1. Lee Williams pounded out 17 hits, led by Tori Logan, Khori Cobanovich and Kera Mertens. Each went 3-for-3, and Cobanovich knocked in two runs and scored two. Mertens scored three. Makenzie Peterson got the win, throwing a five-inning complete game.
The Lady Vols's Sidney Clark outpitched Kingman Academy's Maryssa Edwards in Game 2 for a Lee Williams win, 5-2. Clark earned the win, pitching four innings in the time-shortened game. Both Academy runs were unearned as Clark gave up six hits and no walks. She struck out four.
Edwards surrendered five earned runs, and went 2-for-2 at the plate.
The Academy (1-1) opened up its tournament by pounding Parker, 17-1. Shaunti Short had five RBIs and Abbie Boss three.
Lake Havasu (1-1) beat Parker 27-1 to be tied with the Lady Tigers. Those two faced off first thing Saturday morning to determine the Gold's No. 2, and No. 3. Parker (0-3) withdrew from the tournament, leaving Lee Williams as the No. 1.
Basic (2-0) dominated Window Rock (0-2) and Bullhead City MALC (1-1) over in the Blue Pool. The Wolves beat Window Rock, 15-5, and MALC 15-0. Basic and Kingman (1-1) finished pool play Saturday.
Kingman opened its tournament with a 10-7 loss to MALC. The Lady Bulldogs trailed 10-5 in their last at-bats and made a valiant comeback effort. Kingman narrowed the lead to 10-7 with runners on first and second with two outs. Peyton Chamberlain then hit a long fly ball into the right-center field gap, but it was tracked down for the final out.
The Lady Bulldogs must have learned something because they were successful in their next comeback attempt with a 10-9 win over Window Rock. The Fighting Scouts took a 9-7 lead in extra innings, but Kingman fought back. Rose Martel hit a walk-off single that gave the Lady Bulldogs the win.
Saturday's games and championship results were not available by deadline.