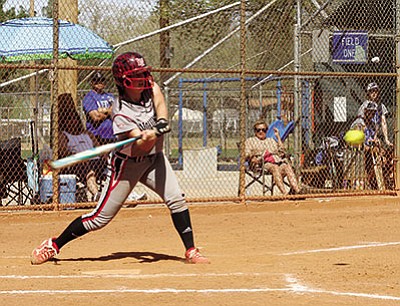 Originally Published: March 23, 2016 6:02 a.m.
KINGMAN - Seven of the eight teams playing in last weekend's Swire Coca-Cola Classic Invitational began this week's return to the regular season by getting back to the basics.
That's because Henderson, Nev., Basic High School won the Friday-Saturday tournament at Centennial Park, going 6-0 and beating Lee Williams (5-1) in the championship game, 8-3.
The Lady Volunteers actually outhit Basic in the final, 13-10, but couldn't string together a big inning.
The Wolves came out fast, scoring three in the bottom of the first and five in the second. Lee Williams' Sidney Clark settled down from there in the circle, holding Basic scoreless the rest of the game.
The Lady Vols recovered two runs in the third on Courtney Janney's two-run single. Their third run came in the fourth when Khori Cobanovich doubled in Kara Mertens. Janney, Cobanovich, Tori Logan and Mia Santos each went 2-for-4 in the loss.
Lee Williams ended the tournament with two wins over Kingman Academy, wins over Lake Havasu and Kingman, and a forfeit win over Parker.
The Academy (2-4) fell in the third-place game to Havasu, 10-8. The Lady Tigers lost in pool play as well to Havasu, 7-5, and were beaten by Lee Williams twice. The Lady Tigers' two victories came against Parker and Window Rock.
Kingman (1-3) was eliminated in the first round of the championship bracket by Lee Williams, 15-0.
Ariana Kowan went 6-for-11 with two doubles and three runs batted in for the Lady Bulldogs for the tournament. Natalie Borgens was 5-for-13 with three doubles and six RBIs, and Ana Perez also went 3-for-13.