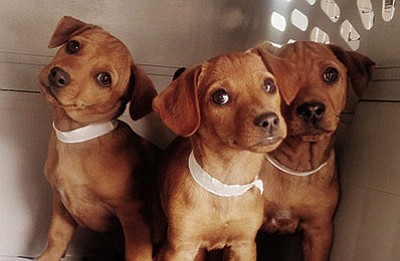 Originally Published: March 23, 2016 6 a.m.
There's no question about it - puppies are adorable.
Those big, soft eyes, that pudgy body, that happy, wagging tail and oversized, awkward feet. The innocence as a puppy looks up at you. Most people love a puppy and it's easy to see why.
But does that mean you should get one?
A puppy is a living animal that requires commitment, training and care. Local animal rescues and shelters spend a great deal of time handling cases in which puppies and dogs have been abandoned or surrendered by people who found they were much more of a handful than they bargained for.
The reasons for getting a puppy may be obvious - but when should you not get one?
Mary Hamilton, operations manager at the Western Arizona Humane Society, pointed out that a puppy requires a great deal of time and attention. They must be trained, given their beginning shots and other veterinary care, given nutritious food and appropriate toys to chew on.
They also require an investment of time for not only the training but love, bonding and exercise to remain physically and mentally sound. A bored puppy becomes destructive.
If you don't have the time, financial resources, space, patience and commitment, a puppy is not the right choice for you.
As Hamilton points out, "They're cute for a reason. So you forget when they do naughty things."
Patience, care needed
Judy Torgerson from the local rescue Mutt Matchers made similar points.
"We as a rescue do not take puppies and the following comments are our reasons behind this," she said. "Most people give away puppies when they are too young to be taken from their mothers. Sometimes the mothers have not had the proper shots, so the pup's immune system is lowered - that's when parvo usually hits these little ones."
"Everyone" wants a puppy because they are "so cute." However, when the puppy gets older, and not "cute" anymore, a lot of them are just dropped back off at the shelter or literally left out on their own.
"We have seniors, and I mean seniors over 80 and up, who want a puppy, come into our center. They do not realize that that 'puppy' will most likely outlive them by several years. Plus they no longer have the energy level, or the 'speed,' to stop them from doing things like chewing, tearing up furniture etc. Again this is when the puppy will be dropped off at the shelter."
"The responsibilities of having a puppy are major," Torgerson continued. "You have to get them the shots that are required for a healthy dog; you have to potty-train them; attend to both their physical and mental needs; keep them basically entertained so they do not get into trouble; they have to have nourishing food, love, socialization and YOU have to have the patience to do all of it.
"Don't get us wrong - we love puppies, but we don't have the personnel to work with these amazing little animals and give them what they need. We applaud the people that can do this, and if they are good people, the pups they will adopt out will have the basic requirements to have a great chance of finding a wonderful home."
Stages of development
Lotti Benker of Help Animals Lives Today estimated the costs of caring for a puppy to be at least around $1,000-$2,000 for the first year, not including any extra costs such as grooming or illness. This includes shots for parvovirus (which is rampant in the area), rabies and distemper, quality food, veterinary visits, spaying or neutering, training and more.
Benker and most others interviewed for this article expressed a desire to see people spay or neuter their pets and to be sure to vaccinate against parvovirus and other necessary shots.
The flood of unwanted mother dogs and litters of puppies seems endless, but diligent spaying and neutering ultimately saves lives down the road. Benker said HALT has transported about 5,500 puppies to the Helen Woodward Center in California in the past 15 years, but it is costly, requires intensive volunteer effort and space for new mothers and litters is always limited.
Cherie DaLynn of For the Luv of Paws had this to say: "Many do not take into account that puppies go through developmental stages just like children; take immense amount of work and lots of consistency, routine, where older dogs tend to be more flexible and adaptable and more readily fit in with a family."
Puppies "go through four stages of development; under three months, they are very close with primary caretakers, have the ability to learn things through repetition; at three months, they go into an exploratory phase when puppies really need to be socialized and offered as many life experiences as possible before the age of six months. (They need to be socialized) around other animals, people, different environments...
"(At) six months, they think and learn much more like an adult, begin to hit teenage years; not technically considered a pup anymore; trying new limits, pushing the envelope.
"During this phase, we see more returned to the shelter. (They are) not a cute, cuddly animal any more, (the bad) habits picked up... are now a big deal, (such as) play biting, jumping and digging. This period lasts about 18 months; personality gets set; harder to break bad habits, (there will be) a lot more repetition to form good habits."
Be realistic
DaLynn added, "When thinking about adding a dog to family, be realistic about your lifestyle and what time commitment you can make for an animal, examine resources, as far as willingness to go through dog training, take time to go to dog parks and socialize the animal with other dogs and remember a dog is supposed to be a lifetime commitment.
"If you have any hesitation about your commitment to a puppy, do not adopt one."
If you have considered all of these facts and are still committed to the time, cost and space required to take care of this living creature, you may actually be ready for one.
If not, there are other alternatives. If you just want something cute for the kids or yourself, a stuffed animal or a video game such as "Nintendogs" can be a great choice.
If you want to adopt a puppy, there are several local shelters that may have puppies or young dogs. They all appreciate donations of money, items and/or volunteer work, as well. Call them for more information or look them up on the Internet.