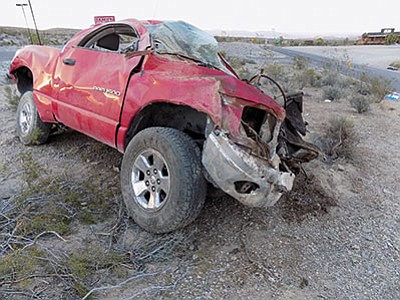 Originally Published: March 25, 2016 11:08 a.m.
MEADVIEW - Alcohol and speed are alleged factors in a spectacular single-vehicle rollover on Pierce Ferry Road March 19.
Raymond Nelson Honyaktewa, 36, of Peach Springs was driving a 2006 Dodge truck east at milepost 36 when he left his lane and veered off the left side of the road into the shoulder, struck a raised embankment and a tree before the truck went airborne, according to Mohave County Sheriff's spokeswoman Trish Carter.
While in the air, the truck hit a row of mailboxes and remained airborne for roughly 100 feet before it hit the ground and rolled several times. The Dodge came to a rest in an open field on top of a small hill directly in front of the Dollar Store near Meadview.
Deputies and paramedics responded and an air ambulance was called in to take Honyaktewa to University Medical Center in Las Vegas. He was listed in stable condition with head and neck injuries, said Carter. Impairment and speeding played a role in the accident and the investigation continues, she said.