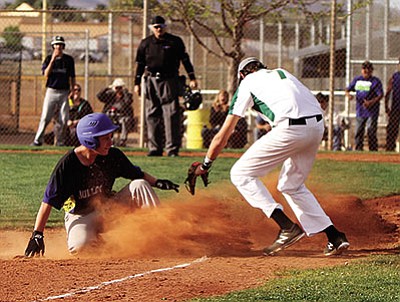 Originally Published: March 27, 2016 6 a.m.
KINGMAN - The best thing about last week in baseball for the Kingman Bulldogs is that it's over. Kingman went 0-3 in a three-game home stand despite getting quality pitching from its starters.
After falling to Lee Williams Monday, 7-0, the Bulldogs lost to Mohave Thursday (6-3) and Flagstaff on Friday (12-2). The defense is the obvious culprit.
Kingman (1-4) committed four errors in the loss to Mohave (7-2) and backed that up with eight errors against Flagstaff (3-4).
Freshman Rilee Araya started and pitched five innings with a no-decision Thursday. He gave three unearned runs on six hits and two walks. He struck out one. Derek Brown relieved and took the loss. He pitched two innings and gave up three runs - two earned - on one hit and he hit two batters. He struck out two.
Brown, Araya, Anthony Pinto and Colton Stanley each picked up two hits. Pinto had a double, and Araya tripled.
Another outstanding pitching performance from a freshman was wasted on Friday. Luke Ness took the loss, going three innings and giving up 10 runs - one earned - on seven hits and one walk. He struck out one. Ness served up three groundball outs, but the eight errors were committed on groundballs to the left side of the infield.
"When Luke pitches, he gets nothing but groundballs," KHS coach Chad Baitinger said. "I told the guys from now on when Luke pitches, for every error they make it's a dollar in the pot. And it's going to Luke."
Baitinger is getting plenty of practice on his patience with his young team. The only senior in the infield is Stanley, the catcher. The coach has a sophomore at third base, a freshman at second and juniors at shortstop and first base.
"You've got growing pains with these kids and you have to keep boosting them up," the coach said. "Baseball is a game of failure and you have to instill in these kids to go out there fearless. Don't be afraid to make an error, it's going to happen. It's a game of failure."
Positive news for the Bulldogs is Pinto's hitting. He went 3-for-3 against Flagstaff, including an RBI-triple. Pinto is fifth in Division III with a .560 batting average.
"He's on fire," Baitinger said. "The ball is looking like a watermelon to him."
Kingman tries to snap its four-game regular-season slide when the Bulldogs host Lake Havasu (2-4) at 3:45 p.m. Monday.