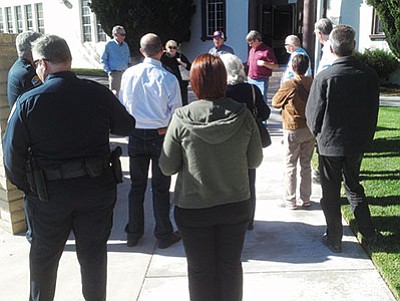 Originally Published: March 28, 2016 6 a.m.
KINGMAN - Three years have passed since the sound of laughing children has been heard inside Palo Christi Elementary School.
A tour of the historic building on Wednesday was a bit of a shock as it seems those youngsters and their principal, teachers and the lunch ladies vanished without a trace. The library is full of books, some in boxes and some still on shelves. Signs on the walls remind students no longer there to walk in single file and to keep their hands to themselves. Tiny chairs are stacked in rooms and dry eraser boards still have writing on them. Ancient flooring squeaks underfoot in spots. Giant tumbleweeds have blown into the playground thanks to recent winds. There they gather with spring weeds growing through cracks in the pavement, adding to the feel of abandonment. Some say ghosts haunt the school, which accepted its first students nearly 90 years ago.
The place is dusty and could use a good airing out. The musty stink of a water leak permeates one end of a hall.
Mostly though, Palo Christi smells like memories.
If a plan hatched by City Manager John Dougherty and preservationists comes to fruition, the school will live to see another day - not as a school, but as Kingman's "new" City Hall.
Not everybody is firmly on board. They've decided to take a wait and see approach before going all in on a project that could break the bank.
Concerns over the cost to renovate a building constructed in 1928 seemed to be the big issue for a few members of the City Council and department heads who were in attendance, but there was also near universal agreement the campus is worth saving and that it certainly has the room to accommodate all of the city's departments, which are currently scattered helter-skelter in the downtown area and elsewhere in the city. One thing it will never be again is a school. The Kingman Unified School District has cast a line in an attempt to sell it, but nobody's biting.
City Clerk Sydney Muhle is a big fan of the project, and for reasons that are as sentimental as they are practical.
"I went here for second and third grade," she said. "I think it's awesome and I want to see it preserved." Muhle's mom and grandparents also attended the school. "Of course, I don't have a vote so it's not up to me."
Bill Otwell of Prescott-based Otwell Associates Architects said the renovation would be extensive, but doable, telling those in attendance that space is what the city needs and there is a ton of space at Palo Christi.
The roof must be replaced at an estimated cost of $300,000, as would the HVAC system. An elevator would have to be installed in order to meet Americans with Disabilities Act requirements.
While the main entrance on Maple Street would likely stay the same, a more secure entrance would have to be constructed for the Kingman Police Department and a third entrance for the Kingman Fire Department also would have to be constructed. Otwell advised there are "serious drainage issues." Bathrooms, while plentiful, would have to be updated.
Hidden problems
Vice Mayor Carole Young and Councilwoman Jen Miles said they wanted to see Palo Christi preserved, but it's far too early to say it would make a great City Hall.
"This is an old building," Miles said. "It's going to need a whole lot of work."
"And we don't know what kind of problems we might find when work begins," said Young. City Engineer Greg Henry said there would likely be electric and plumbing issues to address.
On the upside, there are a couple of secondary buildings on the campus, one that Otwell said is in "excellent condition." Room for plenty of parking is available in the rear of the building.
"We'll meet with every department head and get a wish list," said Otwell. "We'll apply our knowledge of historic buildings. It needs a new roof and HVAC system." Otwell's firm remodeled the Yavapai County Courthouse in Prescott and after the work was done, the county realized a savings of $60,000 a year in power costs.
"Think of what your needs are," he said. "We can do this either individually or in a workshop or planning session." Otwell said Bill Schilling, the city's grant administrator and perhaps its biggest advocate for preserving historic downtown, "knows what's worth saving and what isn't. We can make serious modifications, but still save the windows and doors. We can knock out walls" and do other things to fit the city's needs, he said.
"It's kind of like restoring an old car. You want to keep as much of the original as you can," said Otwell.
Each classroom is roughly 1,000 square feet, the library would make an excellent Council chambers and best of all, all services would be located at a single location for the convenience of residents who have business with the city.
If the Council ultimately approves the move, the current City Hall would be razed and the area would be turned into a green space, perhaps with an outdoor amphitheater.
Schilling is certainly pleased with the city's tentative plan to occupy Palo Christi.
"We first started talking about this three years ago when there were three or four people interested in it not crumbling," he said. "Now, what could happen? It's pretty exciting."
More like this story