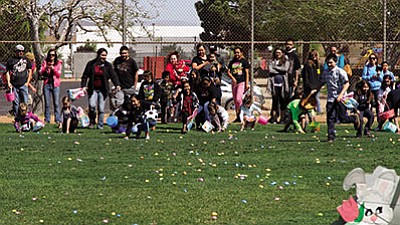 Originally Published: March 28, 2016 6 a.m.
The Kingman Parks and Recreation Department held its annual Easter Egg Hunt Saturday at Centennial Park.
Crowds of parents and children attended the event, which was followed by an Egg Toss.
Jacob Cossio and Jeremy Graves were this year's Egg Toss winners, missing setting a record egg toss by only about three feet.
The Egg Toss came down to two teams. Mark Thomason and Andrew Monroe came in second place as the egg slipped through Andrew's fingers after he almost caught it.
Kingman Parks and Recreation holds several events through the year. Call 928-757-7919 for more information.