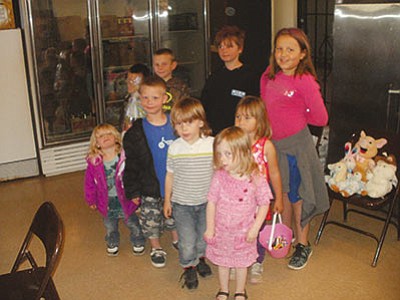 Originally Published: March 31, 2016 6 a.m.
American Legion Family of Post 14: The Daily Miner has requested club news to be shortened, so please rely on newsletter calendars or call the Post for specific information, 928-753-3555. April Fool's Day dinner for Friday Night Out, $5 from 5-7 p.m.; the S.A.L. will host the first Saturday breakfast from 8:30-10 a.m. this Saturday for $6 a plate and the Unit will have the meat drawings. Following the breakfast, the Sons' semi-annual broomstick pool tournament will take place with a $5 buy-in. On Sunday, the Past Presidents Parley will host the annual nursing student scholarship fundraiser beginning at 12:30 p.m. This year will have a safari theme and folks can join us for $10 per person - $5 for children 10 and under - men are certainly invited! The S.A.L. Squadron will meet at 2 p.m.
Belles of St. Mary's: Oh, if only we would all come out to worship our God as we do on the Feast of the Resurrection! We could if we only would... There was standing room only at the parish in Phoenix where I was privileged to attend with my family - it was inspiring to see all the "spring lambs" led by their parents to Mass. Remember this truism: when the babies are fussy and/or crying - their parents are in attendance! This weekend - first Friday and first Saturday devotions as we honor our Lord's request for Divine Mercy Sunday. And on Monday we once again celebrate and honor the annunciation of the Lord. Again and again our Lord extends his mercy and invitation to join Him.
Branch 260 Fleet Reserve Association: Mohave County Branch 260 meets the second Saturday of each month at 1300 hours at VFW Post 2555, Golden Valley. FRA is a community of the sea services; U.S. Navy, Marines and Coast Guard. Your enlisted service in any of these branches - past or present, for a short time or for the long haul - is your passport to membership in an association that works hard for you and your family in your local community and in Washington, D.C. All Navy/Marine Corps/Coast Guard veterans are welcome to meetings. For more information, call Mike at 928-565-5811.
Cactus Cuties Lady Bikers Chapter: Interested in joining other lady motorcyclists with common interests of motorcycles and riding? There is a new Women in the Wind-Cactus Cuties Chapter in the Kingman, Golden Valley, Bullhead City and surrounding area! We meet the first Sunday of each month at 10 a.m. at Peggy Sue's Diner, 4305 Highway 68 in Golden Valley. Check out our website at www.womeninthewind.org or contact us at witwcactuscuties@yahoo.com or (702) 624-1160. We are also on Facebook: Women in the Wind - Cactus Cuties Chapter.
The Cerbat Garden Club welcomes guests at its meetings on the second Wednesday of the month from September through June. The garden club meets from 10 a.m. until noon in the fellowship hall of St. John's United Methodist Church at 1731 Kino Ave. in Kingman. Our mission is to promote gardening, floral design, civic beautification, environmental responsibility and the exchange of information and ideas. Come join us. At our April 13 meeting, Rik Simon of Kingman's Off Broadway Photography will share tips on photographing flowers. Our April 20 Gardeners' Day Out will be a trip to Jan Emmings' desert garden near Yucca. For more information, call Sandy at 928-692-2778. Visit our Facebook page and website, www.cerbatgardenclub.org.
Friday Duplicate Bridge: The results of the game on March 25 were: first place, Cecil Henry and James Blaschak; tied for second, third and fourth place, Bryan Carlson and Donna Blaschak, Gretchen Carpenter and Wolfgang Vorbau, and Trey Gordon and Albert Leenhouts.
Kingman Area School Retirees Association (KASRA) held a meeting on March 22. Our guest speaker, Coylynn Colbaugh, of Kingman Turquoise, presented an informative program. We learned the history of the Colbaugh's family business, facts about the actual mining and processing of the turquoise mineral and viewed examples of the beautiful finished product. Coylynn even sent us home with samples. The Mohave Museum of History and Arts may soon see some of our retired teachers poring over displays of jewelry made by Coylynn. Highlights of our business meeting included a reminder of our state convention at the Four Points Hotel in Phoenix on June 7-8. Deadline for registration is May 23. Hotel reservations must be made by May 7. We also firmed up the date for our Christmas potluck at Barb Fuller's home on Dec. 13. Our next meeting is scheduled for May 24 at the Garlic Clove with a program presented by the Cerbat Garden Club. KASRA is open to all retired employees of our school districts. If you would like to attend a lunch or jump right in and join, please contact Membership Chairman Steve Kocher at LNSK@hotmail.com or call 928-753-1440.
Kingman Area Toastmasters: There will be a meeting on leadership Thursday at the Kingman Regional Medical Center Professional Building, 1739 Beverly Avenue, from 6:30 p.m. to 7:30 p.m. Learn what Kingman Area Toastmasters has to offer and how you can get involved. All those interested in learning how to develop their leadership and speaking skills are encouraged to attend. Light refreshments will be provided. Visit the website at kingman.toastmastersclubs.org, email contact-3906294@toastmastersclubs.org or call 928-224-8329 for more information.
Kingman Elks Lodge No. 468's Inaugural Ball is this Saturday. Cocktail hour begins at 5 p.m.; installment of officers for 2016-17 at 6 p.m.; dinner and dancing to follow at 7 p.m. Dress is formal/semiformal, tickets are $30 per person with choice of beef tri-tip or chicken cordon bleu. Call the Lodge at 928-753-2547 for more information or reservations.
Kingman Pinochle Club: The results for the March 26 games were: first place, H. Allred; second place, Joann Brown; and third place, Barbara Stoefen. For more information about the club or to come play with us, please call Connie at 928-681-4934.
Kingman Republican Women invite you to join us at the Elks Lodge, 900 Gates Ave., at 11:30 a.m. on Monday. Our speakers will be candidates running for Mohave County Recorder: Kristi Blair, Kim Stewart and Jim Zaborsky, along with unopposed incumbent Cindy Cox, running for Mohave County Treasurer. We will have time for questions and answers following. Cost with lunch: $12; meeting only: $3. Visit our website at www.republicanwomenofkingman.com/meetings.html.
Korean War Veterans of Mohave County: For all Korean War and Korean service veterans: Join us at 1 p.m. Saturday for our monthly meeting. Meetings are the first Saturday of each month at 1 p.m. at VFW Post 10386, 3036 John L Ave. in Kingman. We are always looking for new applicants. Just bring your DD214 and we will do the rest. We look forward to seeing you. For further information, please call 928-757-0492.
Teamster Retirees and Associates: The group meets the first Wednesday of each month at 302 Monroe St. (Moose Lodge) in Kingman. Friendly people, good conversation and food. For more information, call 928-692-1071.
Thursday Party Bridge: The winners of the March 24 games were: first, Jerry Lipson; second, Coie O'Malley; and third, Gladys Smith.
Venture Club of Kingman invites you to the Third Annual Casino Night. Slated for April 23, Casino Night promises to be an evening of Las Vegas-style entertainment featuring live table games, a buffet dinner, live and silent auctions, cocktails and dancing. Casino Night serves as Venture Club of Kingman's annual fundraiser to help support efforts in supplying community welfare and betterment in Kingman. Proceeds from this event will benefit the Venture Service Fund, which is distributed directly back into our community in the form of scholarships for local women, donations to other local organizations, and our long-term community project, the Splash Pad. For additional information, please email us at info@ventureclubofkingman.org.
The Watchmakers-Clockmakers: If you are interested in antique watches or clocks as a collector, repair person, or just have an interest, we meet the first Tuesday of each month. For more information call Richard at 928-753-6489.
Wednesday Party Bridge: the winners for the March 23 games were: first, H. Wayne Allred and David Colfer; second, Barry Pope; and third, Nelson Gaska.