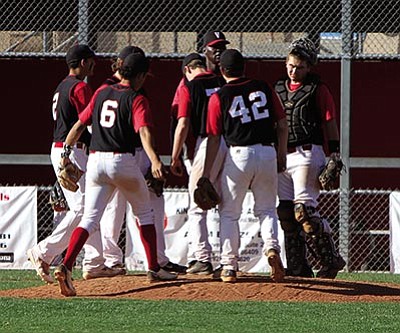 Originally Published: May 1, 2016 6 a.m.
KINGMAN - Fountain Hills used a three-run fifth inning to eliminate Lee Williams from the 2016 AIA Baseball Division III State Championship tournament in the first round Friday in Surprise, 5-3.
Though the Falcons scored a run to open the game, the Volunteers's offense responded with two runs in the bottom half of the first inning. Paul Giglio led off with a single and moved to second with one out when Nate Cottrell walked. Kenyon Rowley delivered a double into left-center field to score Giglio and Cottrell held up at third base. Freshman Mike Bathauer's single to center drove home Cottrell and Lee Williams (13-4) led, 2-1.
The score remained that way until Fountain Hills (12-7) scored the three runs off of Carter Rhoades in the fifth to move ahead, 4-2. The Vols narrowed it to 4-3 in the last of the fifth when another Bathauer single scored Rowley, who led off the inning with a single and advanced to second on a wild pitch.
The Falcons scored an insurance run the sixth to make it 5-3, and relief pitcher Tiger Horikawa retired eight of the last nine Vols to come to the plate. Cottrell (hit by pitch) was the only batter to reach base against Horikawa.
Rhoades took the loss. He pitched 5 1/3 innings and gave up five runs, four earned, on seven hits and three walks. Rhoades hit one batter and struck out four.
Giglio relieved Rhoades and allowed an inherited runner to score. He issued two walks and struck out two.
Bathauer finished 2-for-3, with two singles and a walk, and he had two runs batted in. Rowley went 2-for-4, including a double. He drove in one and score one.
Lee Williams finishes with a record of 18-5. The Vols won the D-III, Section V championship at 7-0, and won the Kingman High School Baseball Invitational in March going 4-1.
More like this story