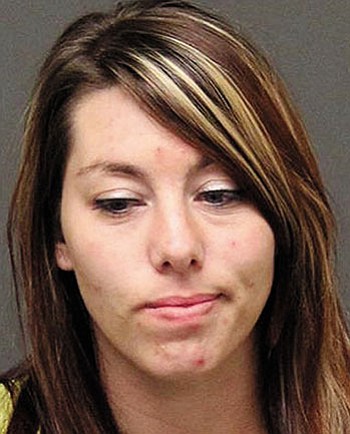 Originally Published: May 2, 2016 6 a.m.
KINGMAN - Cory Steven Williams will spend eight years in prison for his role in the death of a 3-year-old boy with Down syndrome last August in Kingman.
Emotions were high in Mohave County Superior Court Judge Lee Jantzen's courtroom Friday when Williams, 27, was sentenced. The anguish of Williams' mother, who held her hand over her mouth and quietly cried after Jantzen delivered the sentence, conflicted with the mixture of heartbreak and joy that was evident on the face of Tiffany Stotser, the mother of Trent Stotser, whom Williams killed in a tragic accident Aug. 6.
Williams and Stotser used to be in a live-in relationship. She had two children from a prior marriage, Trent and an older daughter.
The case goes beyond the already overwhelming tragedy that marks any child's death in that Williams, for reasons only he can explain, lied to paramedics about dropping Trent on Aug. 6, after waving goodbye to Tiffany Stotser.
And then, Kingman Regional Medical Center determined there was evidence Trent's injuries were caused by child abuse, that there was evidence of prior injuries that might or might have gone untreated. But the KRMC diagnosis that was rendered in August sharply conflicted with the findings of the Mohave County Medical Examiner, who claimed Trent died of one injury, to his skull, and that there was no evidence of a pattern of abuse.
Williams was released from jail after those findings came back last October, but he was still on the hook for Trent's death, whether he intended to harm the boy or not, and he pleaded guilty to manslaughter in March.
Defense attorney Carlene Lacy argued for probation, saying Williams didn't act with malice, but that he was playing with the boy when Trent "stiffened" while in his arms and fell from shoulder height, striking his head on the floor.
She also said the death of a child is something society believes must be punished, regardless of the facts surrounding the death.
She agreed the defendant was reckless and negligent, however, which are two of the elements that constitute the crime of manslaughter, pointed out prosecutor Greg McPhillips.
Still, Lacy said a determination to punish Williams "became all consuming." She railed against the Mohave County Probation Department's pre-sentence investigation report on Williams.
Lacy pointed out several significant errors were in the report and she said the department refused to interview Williams before they wrote the report, which was handed in at the last moment Monday.
Jantzen agreed the report was sloppy, but that had little bearing on the events of Aug. 6.
"The case did not involve intent, but you did have control and responsibility of a 3-year-old, a child that needed more attention, not less."
Jantzen noted Trent would have been "probably a little harder to control" and that he needed more monitoring given his "history of aggression."
With that, Jantzen said he did not believe probation was appropriate, particularly given the fact that Williams has offered at least three different versions of what took place the day of the accident.
The judge also found as aggravating factors that merited a prison sentence are the facts that Williams has a previous felony conviction for narcotics possession, that Trent was only 3 and was disabled, and that the family suffered and continues to suffer emotional harm from the boy's death. Williams must serve at least 85 percent of his sentence and serve one day on parole once he gets out for every seven days he serves in prison.