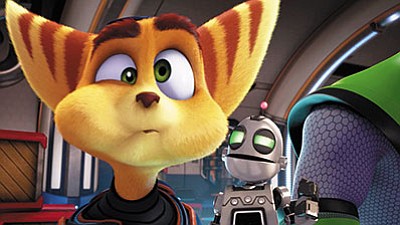 Originally Published: May 2, 2016 6 a.m.
"Ratchet and Clank," the latest animated children's film from Sony Pictures, is an adaptation of the video game franchise of the same name. For those unfamiliar with the series, it follows the adventures of Ratchet, a mechanic from a backwater world dreaming of becoming a hero, and Clank, a pint-sized robot who hopes to save the universe from the evil overlords who created him.
Together these two team up to save the galaxy from certain peril while trying not to let the fame of being heroes go to their heads. For those who have never played the games, don't fret - this movie does a fair job of setting up both the universe and the characters so that you get a good feel for them right off the bat.
As for the series trademark sense of humor, that also comes through as the quirky sense of comedy does hit the nail on the head every now and again.
The movie also boasts an impressive voice cast including Paul Giamatti, Rosario Dawson, John Goodman and Sylvester Stallone. However, these legendary actors and actresses only voice supporting characters, and while they put in a good effort, they hardly bring anything impressive to the table.
This is due to the characters being rather bland and unoriginal. All of them.
Even the platitudes about what it means to be a hero and do what is right feel like repackaged lines from just about every other kids' film ever. And all of these are tacked on just to try and give the characters some depth that they never actually earn.
While this movie isn't the worse animated film this reviewer's ever seen, it's nothing special either. The whole project feels like a made for TV movie that somehow managed to make it to the big screen.
If anything it serves more as a commercial from the video games than a stand-alone children's movie. If you're a parent and your kids have been begging to go see this, take them during the matinee showings. This isn't a pay full price kind of film.
That said, rest assured that your kids will probably enjoy it for its colorful environments, goofy characters and silly action.
For everyone else though, it's a pass. Or at least a wait until it comes out on Netflix or Redbox.
All in all, "Ratchet and Clank" is a fun but very forgettable way to spend an hour and a half. It's got just enough to keep children of a certain age entertained without any annoying songs or grating characters to drive the parents crazy.
Two out of four miners.