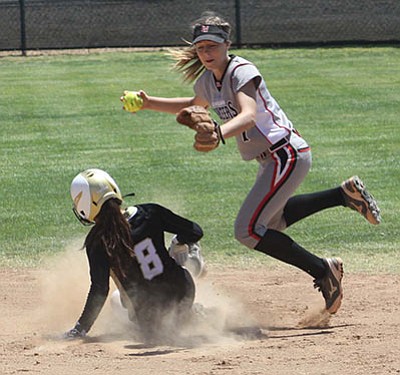 Originally Published: May 3, 2016 6:02 a.m.
KINGMAN - The Lady Tigers learned one of the oldest defensive lessons in their 7-5 extra-innings loss at No. 8 Show Low in the first round of the AIA Division III Softball State Championship tournament Saturday.
You can't give good teams extra outs.
Kingman Academy (10-9) led 5-4 into the bottom of the seventh when two groundballs, difficult plays that should have been fielded, escaped into the outfield to give Show Low (16-3) runners at first and second with one out. Those misplays were followed by a Cougar double that forced the game into extra innings.
In the eighth, Alexis McDade singled with two outs for the Lady Tigers and stole second, but was stranded.
Show Low's Brynna Weesner took a Maryssa Edwards pitch over the center-field fence for a walk-off two-run home run, and the Cougars eliminated the Lady Tigers, 7-5.
"We played hard and hit well," said KAHS softball coach Tim Pena. "Just one pitch out over the plate."
Edwards took the loss for No. 25 Academy. She pitched a complete game, 7-1/3 innings, and surrendered seven runs, four earned, on 14 hits and no walks. She struck out two. Edwards threw 111 pitches, 80 for strikes.
Sophomore catcher Jillian Winters carried the big stick for the Academy. Winters went 3-for-4 with a two-run double, a three-run home run and had all five runs batted in.
Winters gave the Academy a 2-0 lead in the second with a two-out double that hit the bottom of the right-center field fence and drove in Alexis McDade and Kassidy Campbell. Show Low bounced back with three of its own in the second, then went up 4-2 with a single run in the third.
Edwards and Cassidy Hobbs each were hit by pitches with one out in the fourth. After a strike out, Winters followed with a shot over the center-field fence that put the Academy ahead, 5-4.
McDade and Campbell were responsible for the other two Lady Tiger base hits.
Kingman Academy ended the season at 14-14, including two tournaments where it went 5-5.
It was the first postseason appearance for the program since joining the AIA for the 2014 season.
Douglas 15, Lee Williams 0
At Douglas, the No. 10 Bulldogs hammered 17 base hits, seven for extra bases, to blitz No. 23 Lee Williams with seven runs in the second and third innings en route to a five-inning run-rule win in the first round of the D-III state tournament Saturday, 15-0.
The Lady Vols didn't provide much resistance with three hits and a walk. Lee Williams (10-7) was led by Courtney Janney, who went 1-for-1 with a double and a walk. Khori Cobanovich and Makenzie Peterson each went 1-for-2 with singles.
Sidney Clark took the loss against Douglas (13-6). She went 2-1/3 innings and gave up 11 runs on 13 hits and two walks. She allowed two home runs and struck out one.
Peterson relieved Clark and went 1-2/3 innings. She allowed four runs, three earned, on four hits and two walks. She struck out one.
Lee Williams ends the season at 15-8 overall, including taking second place at the Coca-Cola Invitational by going 5-1 in March at Centennial Park.
It was the second consecutive season the Lady Vols reached the postseason. They went 1-1 at state last year.
More like this story