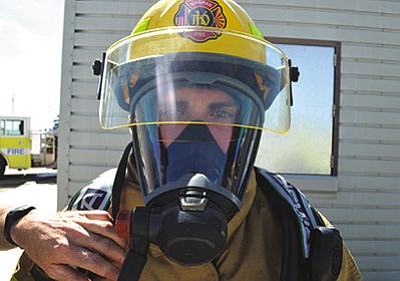 Originally Published: May 5, 2016 6 a.m.
KINGMAN - Sometimes one has to take heat to fight heat.
Four part-time firefighters were taking steps to become full time members of the Kingman Fire Department Wednesday. The Paid-On-Call Academy is a six-month program that takes new and part-time firefighters and prepares them for full-time status with the department.
The trainees are already certified firefighters and have experience with other organizations, but were training specifically for duty with the KFD.
"A lot of departments have the same procedures," said KFD Firefighter Brandon Medlin. "We just teach them how to do things the way we want to do them."
One of the first drills of the morning started with inspecting and donning their personal protective equipment, or PPE, that includes fire- and water-proof jacket and pants, helmet, boots and a self-contained breathing apparatus.
KFD Station One Capt. Rink Gordon explained that none of it was to leave the KFD and or be worn at other departments.
The thermometer was already pushing 80 degrees at 9:30 a.m. The men stood outside with PPE strewn out before them, ready to practice getting the gear on and be ready for action. They had three tries to get everything on in under a minute.
"Win if you can, lose if you must, but 'always cheat' does not apply here," Medlin firmly stated. "Safety is our No. 1 priority."
Medlin explained a department fire call policy: "Once the alarm goes off we have to be to our engines, dressed in PPE, seat-belted in the engine and out the door in 60 seconds."
After three rounds, they finally hit the minute mark.
"Pretty soon they'll all start betting each other," Gordon said. "Competition is always good."
Next the trainees worked in teams of two pulling a 250-pound dummy in full PPE from the window of a wooden structure and down a ladder to simulate a scenario: Extracting an unconscious person from a tight space,
"Between the firefighter's gear and the dummy, that thing is heavy," said firefighter Jeff Stapleton. "That's why teamwork is important. We preach teamwork."
The training took place Wednesday and will continue May 11 with extrication (from a car), search and rescue, fire behavior and ventilation (cutting holes in a structure) exercises.
Cooperation is also important due to the high influx of new firefighters between the four Kingman stations.
"There are a lot of retirements right now," Gordon said. "We are in a constant rotation of hiring."
The use of part-time responders helps save the city money while getting them ready for full-time positions.
"We don't have to pay them overtime or holiday pay yet," Gordon said. "But we're preparing them to fit into a role in the KFD."
The trainees were ready for the challenges.
"You never know what's going to happen when that alarm goes off," said firefighter/trainee Jonathan Ufers. "This will make me a better firefighter and leader. Plus I get to give back to the community."
"I like the teamwork," said firefighter/trainee Alex Gabler. "We have to communicate and work together. Otherwise we're all dead weight."
The academy isn't an occasional event, nor is the experience just for beginners.
"We train every day, whether it's medical services, standard operating procedure or full-on drills," Gordon said. "Fires are not the place to find deficiencies.
"The goal is that everyone goes home."