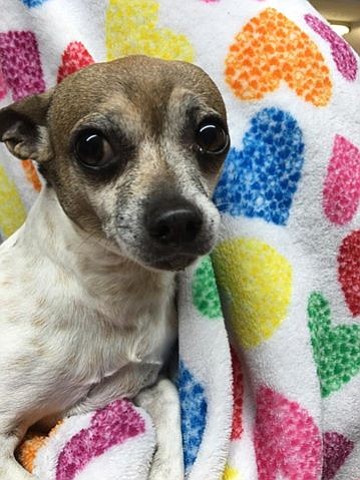 Originally Published: May 5, 2016 4:56 p.m.
A few months ago while browsing Kingman Pet Connection, I happened upon an old Chihuahua named Timmy. Now, mind you we are only allowed one dog where we live and Joseph got the open spot a year or so ago.
I read a little about Timmy. He was guessed to be about 12 years old, and was brought into the Kingman shelter in January as a stray. Being a stray can sometimes mean he actually WAS found wandering around, or more often than not he just got too old and got dumped by the owner. Hard to imagine, I know, but sadly true.
I always enjoy some of the people names that the shelter gives these dogs. Wonder why they do that.
I had told myself that I would not go back to the site for a while. I did not want to see how many homeless dogs were at the shelter. It just made me too sad. But alas, I found myself going back for another peek at Timmy. Sister and I talked about how nice it would be for our Joseph to have a doggie companion. Another senior fellow that he could hang out with. So he wouldn't be all alone whenever we left the house.
As chance would have it, our apartment owner had decided that having two dogs would no longer be against the rules. Most of the dogs were very small, and some people already had a dog and a cat. After all, the combined weight of both dogs is still under twenty pounds.
Once again, I found myself looking at Timmy. Now I could send a message to the site and find out a little more about him. Not that I was going to adopt him, but I was just curious. Right! Right?
This is the part where we end the drama. We did adopt Timmy. The wonderful folks at the Kingman shelter actually brought him to Pet Smart for us to meet. He was indeed a cutie, and very friendly.
We went home and picked up Joseph for a meet and greet, just to make sure they did not hate each other. They spent a few minutes sniffing each other out, and all was well. We brought this tiny sweet old dog to be a part of our family.
Timmy is much smaller than Joseph, maybe 8 pounds, tops, and a lot shorter. We wanted to make sure that Joseph would not hurt him, being that he might see Timmy as an intruder of sorts.
The first two weeks with Timmy were exhausting. They should have named him Houdini. The little beast managed to escape from the house/yard four times. At one point he actually squeezed through an area no more than two inches wide! Like some kind of rodent! I do admit, I was beginning to think that was how he became a STRAY. Perhaps his previous owners got tired of looking for him.
Once we spent $100 or so on an escape-proof fence, things seemed to be going fine. We only had a very small area in back to fence off.
That was about the time Timmy became a bully. Sure, he and Joseph were friends, but Timmy decided HE should be the alfa dog. He would not let Joseph eat, and we had to feed them in separate rooms. Whenever Joseph wanted to sit with one of us, Timmy pushed his way in until Joseph moved. And Joseph let him do it! I was always led to believe that this was something that we had to let the dogs work out between themselves. They actually went at it snarling and barking at each other, but little Timmy just stood his ground. Go figure.
As usual, sister and I started giving Timmy different names depending on his personality. Everything from Vin Deisel to Hulk. This guy is truly an 8-pound package of energy. I still find it hard to believe that he is actually 12 years old. Sister thinks he is a "ringer" and not that old at all.
Never having had such a small dog, I just assumed that a collar and leash would be appropriate. The first time Timmy was outside with the leash and collar, he sat down! I could read his face and I know he was saying, "If you are taking me anywhere, you're gonna have to carry me." And so I did.
Moving right along, these two little guys have settled into our home and become family. Joseph, is still the quiet, laid back guy. And Timmy is the little monster that he is. We have six doggie beds throughout our small apartment, and Timmy still wants to own them all! Joseph continues to let the little one bully him at every opportunity. If he sees Joseph heading for a doggie bed, he will run in front of him and try to jump in first. Joseph just wanders into another room, letting the little guy have his way.
Our lives do revolve around these two old shelter dogs more than they should, I am sure. We will never know what life was like for either one of them before they found us. They no longer chase a ball, play with toys, or chew on rawhide (Chihuahuas nearly always have teeth problems), but at least we know these two will never be cold, hungry, or unloved for the rest of their lives. Sister and I are grateful that they let us live here.
Please consider adopting a senior dog the next time you have room for one more.