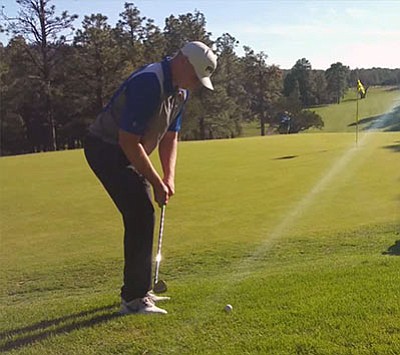 Originally Published: May 6, 2016 6 a.m.
KINGMAN - The regular season came to an end for the Kingman Academy Tigers Tuesday at Elephant Rocks Golf Course in Williams.
Tristen Pitts led the Tigers with a fourth-place finish in the three-team event. He shot 11-over-par 83. Matthew Timmerman (88), Matthew Suh (89) and Aspen Jackson (100) rounded out the scoring for the Academy.
Timmerman's round was highlighted by an eagle on the par-5 17th. His second shot landed on the back fringe of the green behind the pin, and he calmly pitched on from 45 feet and watched his ball roll into the cup.
No. 3-ranked Sedona Red Rock won the Section V match. The Scorpions were 34 strokes better than Camp Verde and 43 ahead of the Academy. The Tigers played without their No. 1 golfer, Raphael Choi.
Kingman Academy is currently ranked No. 8 in Division III and is second in the race for one of the eight at-large spots for the state tournament next weekend. Sedona has clinched the Section V championship and the automatic qualifier that goes with that. The Tigers standing could change, as the regular season officially ends Saturday.