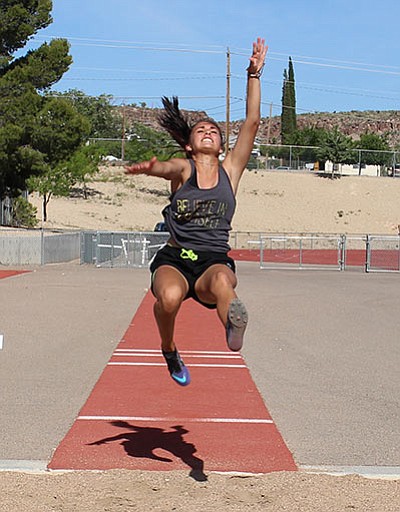 Originally Published: May 6, 2016 6:02 a.m.
KINGMAN - In each of its four years as a track and field program, the list of Lee Williams athletes making the season-ending journey to the Phoenix-area for the state championship meet has gradually been growing. Now, with its first senior class on the team, the Volunteers have more than doubled last year's total of 12 with 29 heading for the AIA Division III championships today and Saturday at Mesa Community College.
"Going from one in a car in our first year and now three years later we've got a bus," said LWHS track coach Joan Abraham. "This year we have a chance to score points and not just show up. I'm excited. Friday and Saturday will be exciting days in the growing history of our school."
Five Volunteers are ranked in the top five of their respective events heading into the meet. Senior Giancarlo Narvarte is No. 2 in the high jump. He won the state championship as a sophomore.
Sophomore Trysta Rucker is No. 3 in the 100-meter high hurdles and right behind her is another Lady Volunteer. Freshman Lillian Rapp is No. 4, having attained her goal three years ahead of time.
"My goal was to go to state before I graduated high school," Rapp said. "Now, I just want to keep getting better."
Rapp's competitive spirit has got her sights set high for the weekend.
"I want to win," the freshman said. "I'm really competitive. If I don't win, I just want to say that I left it all out there."
Sophomore Madi Arave is ranked No. 3 in the long jump with a personal best 16 feet, 3 inches. When she landed the mark, Arave had just returned from a two-week injury and was trying to nurse herself back into top-level competition.
"I was just going to take the next few meets as practice," Arave said. "I jumped 16-3 a week after coming back and thought maybe the break was good for me."
Senior Peyton Cardiff is ranked No. 5 in the 800. He went toe-to-toe with No. 1 Jordan Gardner of Snowflake earlier in the season and has a few strategies in mind.
"I'm thinking I may run with the top four because they know how to run an 800," Cardiff said. "I'm going to run my best for my senior year. I've got nothing to lose."
Notes: Here is a list of the rest of Vols who are competing at state (Name, event, rank). Boys: Nicholas Bauer, 110 high hurdles, 6. Enzo Marino, 110 HH, 21. Zack Tempert, 110 HH, 25. Cardiff, 1600, 13. Brendon Allred, 1600, 18. Bauer, 300 hurdles, 24. Ethan Knudtson, 200, 14. Allred, 3200, 9. Narvarte, triple jump, 21. Edmond Ashton, discus, 21. Kensington Penny, discus, 26. Kael Juelfs, shot put, 7. Penny, shot put, 12. Allred, Zach Moyd, Cardiff, Andrew Herrera, 4x800, 13. Cardiff, Chris Marcus, Devan Salmon, Justin Sturgill, 4x400, 13.
Girls: Sienna Cobanovich, 100, 21. Madeline Tribbett, 100, 24. Rucker, 300 hurdles, 16. Melisa Davis, 300 hurdles, 24. Arave, high jump, 15. Cobanovich, high jump, 28. Tribbett, long jump, 18. Marli Lauck, triple jump, 19. Sadie Snay, discus, 14. Snay, shot put, 24. Alondra Correa, Jackie Millim, Snay, Meah Wilson, 4x800, 16. Cobanovich, Rapp, Darleen Bland, Jaeden Samson, 4x100, 9.