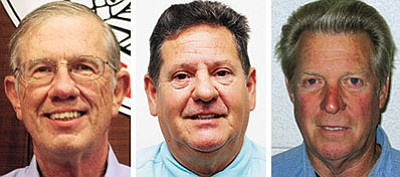 Originally Published: May 8, 2016 6 a.m.
KINGMAN - With less than a month left before the deadline to file for office passes, the 2016 City Council election already is starting to look interesting, according to the latest information from City Clerk Sydney Muhle.
Mayor Richard Anderson could have a fight on his hands if he is to win a second two-year term. Harley Pettit, perhaps the Council's most frequent critic, has challenged Anderson, as has Joseph "Joe" Longoria. Both Longoria and Pettit regularly attend meetings.
There could be more mayoral candidates as not everyone who has picked up an election packet at City Hall has formally specified whether they will take on Anderson or seek one of three four-year Council seats. Those seats currently belong to Vice Mayor Carole Young, the longest serving member of the seven-person board, and Councilmen Larry Carver and Ken Dean.
Young in the past said she would not seek another term on the Council in order to focus on the school district board, to which she is also an elected member. Carver is up for re-election and he seeks another term. Dean, who was appointed to replace former Vice Mayor Mark Wimpee following Wimpee's midterm resignation last October, told the Miner he is still deciding whether to seek a full four-year term.
Former Councilwoman Erin Cochran, who ran an unsuccessful mayoral campaign against Anderson in 2014 at the end of both candidate's first term, has filed to run for Council.
Those who have pulled a packet but did not declare a specific office are Jacqueline Scott, Travis Lingenfelter, Gary Rucker, Bryan Thompson and Jamie Scott Stehly.
To date, there are only a handful of official candidates. Incumbents Anderson and Carver have filed what's known as a $500 threshold exemption statement, which allows candidates to seek nominating signatures that are required to qualify for the Nov. 8 ballot, as well as perform other campaign-related work. Challengers Cochran, Longoria and Pettit also have filed the required paperwork.
The threshold exemption is essentially a statement a candidate or political committee files with the city clerk before they can accept contributions, collect signatures by circulating petitions or distribute campaign literature.
Members serve at large, meaning they each represent the city as a whole.