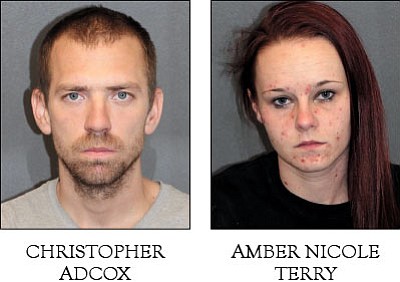 Originally Published: May 10, 2016 5:48 p.m.
KINGMAN - Four children were removed from a home Monday after Mohave County Sheriff's deputies allegedly discovered salable amounts of heroin and methamphetamine - and five Kingman adults with warrants on the property.
Police were at the home in the 2300 block of Snavely Avenue to arrest Christopher Harold Adcox, 27, at about 9 a.m. They eventually found him, but not before they also found three men and a woman inside an open camper on the property and another woman inside the home.
Deputies pulled from the trailer Marcus Adam Fuentes, 29, who had a pair of felony failure to appear warrants issued by Mohave County Superior Court and a misdemeanor false report warrant issued by Kingman Justice Court, and two people who had pending misdemeanor warrants.
The most serious charges were reserved for Adcox and Amber Nicole Terry, 26, after deputies entered the home and observed four children, ages 1, 2, 4 and 6, unattended in the living room with drug paraphernalia allegedly in plain view. Christopher Adcox came out of a bedroom and was taken into custody without incident. Terry was allegedly found hiding in a closet in the master bedroom.
Someone allegedly gave deputies consent to search the home and they allegedly found a large plastic bag containing roughly 15.2 grams of methamphetamine and an unspecified quantity of black tar heroin, apparently enough to merit a sales charges.
Department of Child Safety employees took custody of the four children. Adcox and Terry apparently have an ongoing case with the state agency.
Adcox faces felony charges, including four counts of child abuse, possession of dangerous drugs for sale, possession of narcotics for sale, possession of dangerous drugs, possession of narcotics, and two counts of possession of drug paraphernalia.
Terry faces four counts of child abuse, possession of dangerous drugs and possession of narcotics, along with a misdemeanor failure to pay fines warrant issued by Kingman Justice Court.