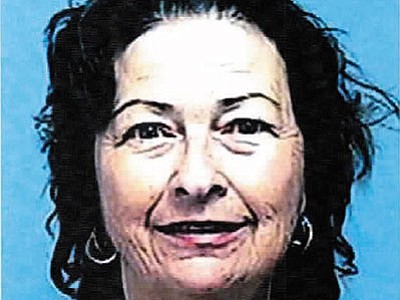 Originally Published: May 10, 2016 6:02 a.m.
KINGMAN - The Kingman Police Department seeks the public's help in locating Judith M. Wright, a 70-year-old Kingman woman diagnosed with Alzheimer's disease who was last seen Friday leaving Desert Highlands Care Center in the 1000 block of Kathleen Avenue. She was a visitor at the center, not a resident.
Wright is 5-foot-6 and 160 pounds, with brown hair and brown eyes. She was wearing a blue denim dress with a black long-sleeve shirt underneath and flat shoes. She was driving a tan 2007 Toyota Camry with Arizona plate number AXV5617.
Wright has not taken her medication for Alzheimer's in seven or eight weeks. Relatives believe she was headed to an airport to travel east or was driving east on Interstate 40, headed to either Tennessee or Maryland.
Anyone with information is urged to contact the Kingman Police Department at 928-753-2191; report tips online at www.kingmanpolice.com; or report anonymously by calling Mohave Silent Witness at 928-753-1234. Kingman Police investigators are following up on any tips or leads.