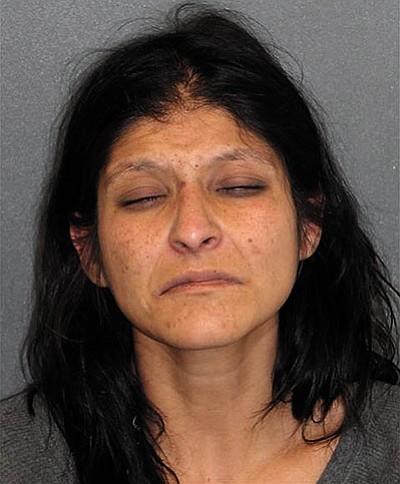 Originally Published: May 10, 2016 6 a.m.
KINGMAN - A pair of misdemeanor warrants led to serious felony charges for a Kingman woman Saturday.
Lynda Jacqueline Quintana, 32, really didn't want to go to jail Saturday morning. But go to jail she did after Quintana allegedly assaulted a Mohave County Sheriff's deputy, resisted arrest and attempted to escape following a traffic stop at a convenience store on Route 66 and John L Avenue at about 9:45 a.m.
Sheriff's spokeswoman Trish Carter said Quintana was a passenger in the back seat of a vehicle that deputies pulled over. She reportedly tried to conceal herself by covering up with items that were in the back seat.
Carter said Quintana refused deputies' orders to get out of the vehicle after she allegedly provided them with a phony name.
Quintana allegedly kicked a deputy and continued to resist arrest until a Taser was used. Deputies had Quintana sit on the ground while paramedics were called, but she allegedly "jumped up and attempted to run" as soon as they arrived.
A record check revealed the warrants - both for failure to pay fines issued by Kingman Justice Court - and a search of Quintana's purse allegedly revealed she possessed narcotics, a glass pipe with residue, a piece of tinfoil with black residue and a burnt marijuana joint.
She faces felony charges of aggravated assault on an officer, resisting arrest, escape, possession of narcotics and possession of drug paraphernalia, along with misdemeanor false report to law enforcement and the two misdemeanor warrants.