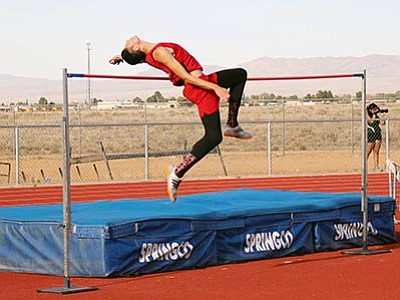 Originally Published: May 11, 2016 6 a.m.
KINGMAN - Nothing is guaranteed at the state championship level, and Lee Williams discovered as much when the Volunteers faced a number of difficulties Friday and Saturday at the AIA Division III Track and Field State Championship Meet at Mesa Community College.
Snowflake dominated the boys meet with 89.5 points, 23.5 ahead of second-place Sahuarita. Lee Williams finished tied for 16th out of 36 scoring teams with 12 points.
Fountain Hills took the girls championship by tallying 91 points. Rio Rico came in second with 68, and the Lady Vols tied for 29th with 3 points. Kingman (2) finished tied for 31st out of the 35 scoring teams.
"I am very proud of all of the kids who went to state," said LWHS track coach Joan Abraham. "They worked really hard to get there. I'd say the two days at state were a big success."
Giancarlo Narvarte scored eight points for the boys squad. The 2014 state high jump champion finished second in the event after clearing 6 feet, 6 inches. His timing was off as his jump over 6-6 would have been good enough to clear 6-8 and when he got to that height, he couldn't match Snowflake's Dylan Kay. After winning the state championship two years ago, Narvarte has finished second twice.
"Giancarlo skipped the triple jump because it started at the same time as the high jump," Abraham said. "He didn't think he could do his best in either running back and forth between events."
Narvarte, a senior, has signed with the University of Colorado to high jump for the Buffaloes.
Peyton Cardiff scored the other four points for Lee Williams with a pair of seventh-place finishes. Cardiff scored two points each in the 800 and 1600-meter runs. Cardiff ran the 800 in 2 minutes, 00.04 seconds, just missing his personal goal of a sub two-minute race.
"Peyton did a great job. He ran his heart out," Abraham said. "Both his races were very well run and the groups of boys running together was an obstacle for some athletes."
The Lee Williams boys and girls team expected the throwers in the discus and shot put to help move the Vols up the leaderboard. That didn't happen.
"Our throwers couldn't get their rhythm,' Abraham said. "They didn't throw their best."
Freshman Lillian Rapp earned two points for the Lady Vols, coming in seventh in the girls 100 hurdles with a time of 17.27. Sahuarita Walden Grove's Jala Pinckney won the event in 16.05.
Sophomore Trysta Rucker also reached the finals of the 100 hurdles, but she clipped the next-to-last hurdle, which caused her to crash into the final hurdle. She apparently blacked out for a few seconds, but realized where she was and finished the race in ninth place.
"Trysta showed real heart," the coach said. "She's already planning her comeback next season."
Madi Arave provided Lee Williams with its third point. Arave finished eighth in the long jump with a leap of 16-01.
Kim Carroll scored the two points for the Kingman High Lady Bulldogs. Carroll came in seventh in the discus with her best throw of the year at 99-06. Carroll began the season at 73-10.