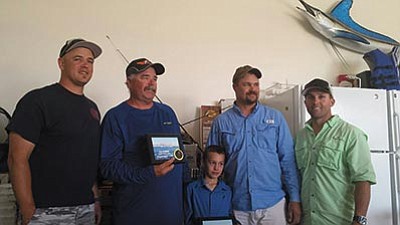 Originally Published: May 17, 2016 6:02 a.m.
In many ways the Kingman Fire Fighters Association/United Professional Fire Fighters of Kingman local 4191 annual tournament was almost the same as it has been for years, at least when it comes to the winners.
Once again the team of Fred Proudfoot, along with his son Mark and 7-year-old grandson Collby, smoked the other teams in the bass division, and they did it in a big way this year.
They set a record for the best 15 bass EVER brought to scales of any previous KFFA tournament. Their bag weighed 33.8 pounds, over four pounds heavier than the second place team.
Proudfoot said that on Friday evening they were in fifth or sixth place in the two-day tournament. Bass anglers could bring in as many as 10 fish per day, but most teams, like Proudfoot opted to weigh in just five fish on Friday evening. Tournament rules allowed for a 15-fish limit over the tournament, but no more than 10 fish could be weighed in on any one day. The tournament times were from 4 p.m. 'til 8 p.m. on Friday, and from safe light Saturday until 3 p.m.
"I was fishing by myself till 6:30 on Friday," Proudfoot said. "I picked up my son and grandson at the dock but we never fished any farther than Gregg's Hideout," he said.
The five fish they weighed in on Friday evening pushed the scales to 8.75 pounds, but it was their second day weight of just over 25 pounds that set the record. And their biggest fish weighed in was caught by 7-year old Collby. It weighed 3.3 pounds.
Proudfoot said that he had located the fish a week before the tournament started and had a good idea where they were going to be and when they were going to actively feed. "We found the fish in wolf packs from 15 to 35 feet deep. We used our electronics to locate them."
Proudfoot declined to identify the lures they used, but whatever they were, they were very effective.
"We caught at least 80 if not more bass during the tournament," Proudfoot said. Besides bass they also caught stripers and several catfish. Mark even caught a huge softshell turtle. Fred said he thought it was about 20 inches in diameter.
"It was huge," he said.
The veteran angler said that they did a lot of running and gunning during the tournament. He estimated that they fished in 50 different areas.
"We put lots of miles on the boat," he said.
Several tournament anglers reported that they saw Proudfoot in and around the Temple Bar area on Saturday.
The second-place team of Rick, Nick and Bobby Olivas also checked in a 15-fish limit, anchored by the largest bass caught in the tournament, a 6-pound largemouth that Bobby Olivas caught on a crankbait on Friday afternoon. The team was in first place after all the teams had checked in on Friday with a five-fish limit that weighed 11.9 pounds.
But even with bringing in a second day total of 17.59 pounds for their best 10 fish, they just couldn't overtake Team Proudfoot.
Third place was won by Jim Guin, Wendy Guin and David Bonnee. That team checked in 15 bass that collectively weighed 28.8 pounds. Their 10 fish they weighed in on Saturday pushed the scales to over 20 pounds.
Team Guin beat out the team of Bob Casson and Matt and Mike Bathauer by just over a pound.
Tournament rules required that all bass caught were released after weigh-in.
Striper weights huge
In the striper division, there were nine teams that participated in the event. And incredibly, seven of those teams checked in a 40-fish limit. One team had 38 fish. One other team that failed to check in a limit of stripers had boat issues and couldn't fish on Friday night.
In the winner's circle with a record 40-fish limit that weighed 91.15 pounds was Janner Greenhow, Mike Stapleton and Matt Wolsey.
In a story befitting of the title of "You're not going to believe this," the team, who had not fished on Lake Mead since last year's tournament, just went out and started fishing.
They tried multiple locations, without much luck.
Their fishing time was even cut short when they assisted a stranded boater after dark. They towed him back to South Cove.
It was now 11:45 p.m. and they had just two fish in the boat. Then Lady Luck smiled on them or maybe it was the good karma for towing in a stranded angler, when they found a hot spot. From midnight to 6:30 a.m. they caught a lot of fish, and their smallest of a 40-fish bag weighed one pound, 15 ounces, so they decided to stay out and fish.
It was about noon when Stapleton caught the team's big fish, and what turned out to be the tournament's big fish, when he landed a striper that weighed 4.4 pounds. Stapleton said they figured they caught around 100 stripers.
In second place was a team that you will almost always see at or near the top of the leaderboard when it comes to striper fishing.
Tim Flatt and Jack Ginkins, who are affectionately called the ZZ TOP boys, and their partner Frank Webster, had a solid limit of 40 fish that weighed 84.65 pounds.
Third place was taken by James Chance, Lee Chance and Aja Chance, whose 40 fish limit weighed 78.6 pounds, edging out the team of Mike VanZant, Charlie Suttles and Charlie Van Zant by less than a half pound.
Weights of other 40 fish limits were from 56 pounds to 74 pounds, attesting to the health of the stripers in Lake Mead right now.
This tournament redistributes all of the entry fees back to the winning teams and for big fish winners. About $1,500 was paid out this year.
At the end of the event, there is a free luncheon for tournament participants that is sponsored by the Proudfoot and Hopper families and is held at the Proudfoot's Meadview home.
Fred and Carol along with others in the Hopper family have been doing this for years.
There is also a raffle held after the event that is very popular with tournament participants. According to Wolsey, who is one of the tournament directors of the event, all money from the sale of the raffle tickets is used for scholarships that the KFFA gives out each year to local youth.
On a personal note, I noticed that there were three local officials at this event, supporting and even participating in the tournament and raffle. Mohave County Supervisor Jean Bishop, state Rep. Regina Cobb and Constable Mike Cobb were there.
As a sportsmen, it's nice to see that our local officials are in support of one of America's long time outdoor recreational activities, fishing.
Once again Meadview residents Don and Doris Lash were on hand to collect any stripers that tired anglers wanted to donate to them. Don and Doris are members of the Meadview Baptist Church, and they collected and filleted a total of 260 stripers. The church holds several fish fries every year thanks to anglers and Don and Doris.