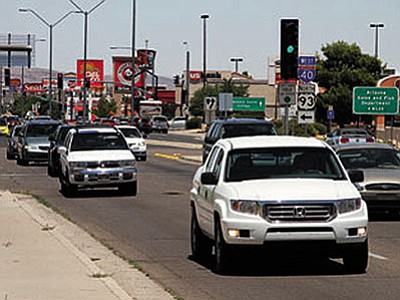 Originally Published: May 17, 2016 6:02 a.m.
KINGMAN - The most important items on today's City Council agenda could be passed without comment and include roadwork on Kingman's busiest street.
Items listed in the consent agenda include approval of a contract with Desert Construction to perform milling and replacing the top two inches of asphalt on Stockton Hill Road between Detroit and Airway avenues. The work is expected to be completed by the end of June.
The Council, also under the consent agenda, could approve spending more than $32,000 out of contingency funds to cover a Federal Emergency Management Agency grant that was approved in 2014.
The Council also could adopt an ordinance that would close a loophole in the Streets and Sidewalks rules and regulations.
Current rules require the developers of new subdivisions to pave streets and install curb, gutter and sidewalks, but the same is not required of those who build in subdivisions that were platted years, if not decades ago, but have not been built out.
The city has several miles of unpaved, unimproved streets and hopes to fund improvements. The suggested ordinance to amend the rules is to prevent the establishment of more unpaved roads.
Today's meeting begins at 5:30 p.m. inside Council chambers at City Hall, 310 N. Fourth Street.