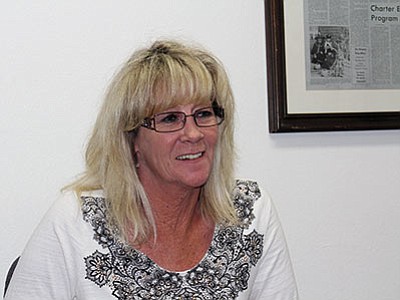 Originally Published: May 18, 2016 6 a.m.
KINGMAN - Longtime Kingman Daily Miner CEO/Publisher Robin Mauser will bid farewell to the newspaper she's piloted since 2000 this week.
Mauser has worked for Miner parent company Western News & Info for 28 years.
"I think this is the best group of people at the Miner that could ever be," said Mauser. "They are dedicated, hard-working and involved in the community and that made my job a pleasure."
She's familiar with the person chosen to replace her. After all, Mauser hired Debbie White-Hoel 21 years ago, when Mauser published the Palo Verde Valley Times in Blythe, Calif., and Hoel, a native of the town, began her career as a receptionist and in circulation.
She was named publisher of the Blythe paper - also a Western News & Info publication - in 2003 after being named its general manager in 2001.
Between moving from that entry-level position to publisher, Hoel worked in classifieds and graphics.
She also publishes two Western News & Info weekly newspapers - the Williams Grand Canyon News in Williams and the Navajo-Hopi Observer in Flagstaff.
"I'm inheriting a paper with a lot of years of community involvement," said Hoel. She said she plans on continuing the Miner's status as the region's "best source for strong local news. The Miner is a huge part of the community," said Hoel, noting she is familiar with Kingman since she often comes to the city to visit her daughter.
She does not have any immediate plans for the newspaper, saying Mauser has "done a great job," but Hoel does plan on being very active in Kingman.
"I really want to get involved with the chamber and the hospital," she said, "and the downtown corridor. I'd like to see where I might fit in to help with revitalization."