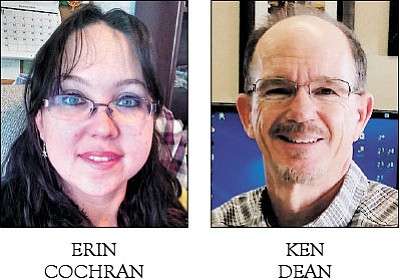 Originally Published: May 19, 2016 6 a.m.
KINGMAN - The election for City Council is still six months away, but it's a certainty at least one new member will join the group following Councilman Ken Dean's announcement that he will not seek a full term.
Dean was appointed last fall to fill a vacancy left by the midterm resignation of former Vice Mayor Mark Wimpee. At the time, Dean said he would seek a full term in 2016, but the demands of both his professional career and his obligations as a councilman made Dean change his mind.
"You'll recall at the time of my appointment, I indicated that I intended to seek a four-year term this election cycle. I have decided otherwise, as I've learned through this experience that there are just not enough hours in the day to resolve the regrettable conflict between the demands of my employment and commitment to public service," said Dean near the end of Tuesday's City Council meeting.
He will continue to serve until December, when the next Council holds its inaugural meeting.
Former Councilwoman Erin Cochran withdrew from the Council race on Tuesday, deciding to focus on her family as her children grow older.
"After much prayer and careful consideration, I've decided that the next four years of my time need to be dedicated to my family," said Cochran. "I'm extremely passionate about the city of Kingman and will continue to work from the outside to make this a community we can all be proud of and a place where our children will want to stay and raise their families."
There is still time for people to file for office ahead of the June 1 deadline. As things stand now, Mayor Richard Anderson faces challengers Harley Pettit, Joe Longoria and Monica Gates for the two-year term.
Three four-year Council seats are on the ballot. Councilman Larry Carver, who seeks re-election, and Vice Mayor Carole Young, who has said she does not, are two of them. Dean currently occupies the third seat.
With Cochran's withdrawal, there are more mayoral candidates than those for City Council, with Gary Rucker and Jamie Scott Stehly joining Carver as the only official candidates. Other people have pulled packets, but have not filed the require paperwork to become a candidate.
Packets can be picked up at the clerk's office at City Hall, 310 N. Fourth St. Nominating signature petitions that make candidates eligible for the ballot must be filed by June 1.