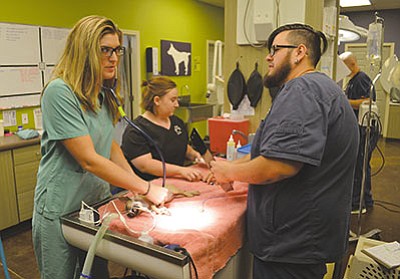 Originally Published: May 19, 2016 6 a.m.
KINGMAN - In a tumultuous meeting, the Mohave County Board of Supervisors voted 3-2 Monday to keep the county's Kingman animal shelter contract with Western Arizona Humane Society, despite a staff recommendation that the contract be awarded to another organization.
That organization, the Humane Society of Mohave County, had pressed for the contract to be reopened in March in order to have a chance to bid on it.
Supervisors Buster Johnson, Hildy Angius and Steve Moss voted to keep the contract with WAHS. Jean Bishop and Gary Watson voted against that motion.
Taylor Williams, the owner and veterinarian at Low Cost Spay/Neuter Clinic and the organizer of Humane Society of Mohave County, said she worried the Kingman shelter would continue to be inadequate for the area's needs.
"We want to make this a place where people are proud to work and volunteers are proud to go as well as a safe haven for animals and not a place that people are scared to adopt from," she said.
"It's going to be people in Lake Havasu running what's going on in Kingman. Maybe it's time for Kingman to have its own city shelter."
WAHS also runs the shelter in Lake Havasu City.
The supervisors' Monday agenda said Williams' group should be awarded the one-year shelter contract, but Johnson blamed bad communication before calling for the vote.
"I believe we had misinformation and this is the information we acted upon," Johnson said. "Numerous missteps have drawn out a contract negotiation and caused many of the problems we're having today.
"I believe the way the contract was handled was wrong and would make a motion to extend for one year the contract we had with WAHS and sincerely hope the two groups would work together for the better treatment of animals in Mohave County."
His motion drew critical comments from the audience, including, "Good luck for re-election" and "They're killing our animals."
Public opinion
Many residents spoke passionately on each side of the issue.
"We're saddened that there has been some extremely underhanded negotiations going on," said Lake Havasu City resident Patty Gillmore. "I cannot call you the Humane Society of Mohave County. There has only been one Humane Society since 1978, the WAHS."
Cherie DaLynn, founder of For the Luv of Paws animal sanctuary, said she wanted the Humane Society of Mohave County to get the contract.
"These are my tax dollars, this is my shelter," she said. "This is every resident in Kingman's shelter. We shouldn't be told what to do by someone who lives 60 miles away."
Lotti Benker, who founded Help Animal Lives Today, backed the idea the Kingman's shelter is outdated.
"For God's sake, the shelter you have is 40 years old, the population (of Mohave County) at that time was 27,000. Now we have 200,000," she said. "We have fired petitions at the Board of Supervisors. Nothing has happened. Nothing."
Supervisors' views
Johnson was dismayed at the public disputes over the last few years.
"During this process, I've been embarrassed for Mohave County by the actions of both organizations," he said. "This has turned into a food fight. People who are genuinely interested in the welfare of the animals should be working together to make each organization better and that whoever gets the contract that the animals will benefit.
"The ugliness of the name-calling, accusations and even threats by some is the worst I've seen in my years on the board."
Bishop explained her opposition to Johnsons' extension during an interview Tuesday.
"We and Mr. Watson believed the contract should've went to Dr. Williams," Bishop said. "She was willing to do more for less money. It was a good business decision on my part. She's going to be able to do more than what we're getting from WAHS and the services that were going to be performed here."
Williams said her proposal included a grant program, daily veterinarian rounds, a months' worth of pet insurance, new kennel space, building renovations, a food contract with Purina and an open transfer program to other shelters in other cities.
Angius said the process was to blame.
"The process was not right. It was unfortunate," Angius said in a phone interview. "We shouldn't have opened it up. There's a lot of hurt feelings."
She said emotions come into play when it comes to animals.
"There have been terrible accusations on both sides of the table," she said. "We've got to think outside the box. We're just too big to have one county shelter. I hope this works out better for everybody."