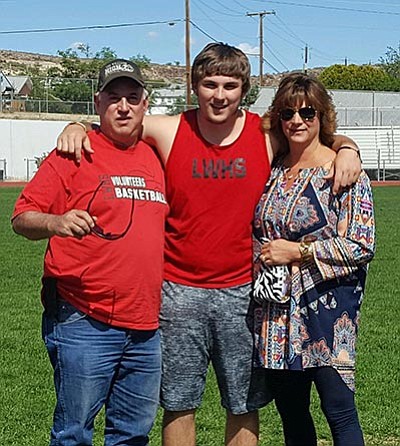 Originally Published: May 22, 2016 6 a.m.
KINGMAN - Ray Smith resigned Thursday as the varsity boys basketball coach for Lee Williams High School. Smith took the Volunteers from a 1-27 inaugural season three years ago to the state playoffs this year.
"I've got my son home from school and would like to put more time in at work," Smith said. "I think it's time for some young guy to come in and take the program. I think it's stable, and it's time for me to go hunting and fishing more."
Lee Williams was 31-55 during Smith's three seasons, including that first year when he had only freshmen and sophomores. The program improved each year, going 13-14 in 2014-2015 and finally 17-14 this past season. The Vols won the Division IV, Section III Championship Tournament beating Mohave and Joy Christian, then beat Joy again in the first round of the D-IV state tournament before bowing out at the hands of American Leadership in the round of 16.
"I know it's something he's been thinking about since the end of the season," said LWHS principal/acting athletic director Gretchen Dorner. "We had a great basketball season, and we have quite a bit of interest in both teams (baseball). I think the transitions will be seamless, but we will miss these two (James Mayfield)."
Mayfield resigned from the baseball coaching job on Monday.
Smith, 59, returned to coaching as an assistant six years ago after ending his 18-year tenure at Kingman High School in May of 2002. Though he's resigned as basketball coach, he'll continue to assist the Lee Williams football program.
"I'm going to miss the kids. It's why I got back in it," Smith said. "I'll miss the competition and the chess game. What I'm not going to miss are those bus rides."
Jacob Iodence has taken over as coach of the football team, and Smith is making certain he's there to help.
"My role is to basically help Coach Iodence with whatever he needs," Smith said. "We're all trying to do figure out our roles, and my role is to make sure I do whatever Coach Iodence needs me to do."
Dorner said she expects to have both the baseball and basketball positions filled within the next few weeks.
More like this story