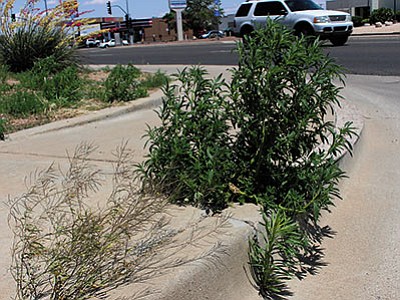 Originally Published: May 29, 2016 6:08 a.m.
KINGMAN - Those weeds are growing like ... weeds.
Did you know city property owners are responsible for the maintenance of public places bordering their property?
That means removing trash and weeds taller than six inches, whether they are alive, dead or dormant, and any weed that is "so dry as to be readily flammable or combustible."
The city's police, fire and public works departments sent out this reminder and others following a wet winter and a warm spring that have brought about rapid growth of weeds.
While weeds are an eyesore that reflects poorly on the city and its citizens, they become more of a problem as the temperatures rise and the weeds dry out. One errant spark on a windy day could start a wildfire in the middle of a crowded subdivision.
In addition to maintaining sidewalks, property owners - or their renters - also are responsible for maintaining the right of way and any landscaped areas, including the area between the property line and the back of the curb or the edge of unimproved roads, easements, and to the center of alleys around the perimeter of the property.
Another duty that is routinely ignored - and unenforced in the city - is this one: No owner shall allow trees or shrubs on their land to encroach upon or impede, obstruct or interfere with passage on any street, sidewalk or alley within the city - or to obstruct visibility of any traffic control device or signal.
The city is aware it has its own issues with weed abatement.
City Clerk Sydney Muhle had this to say: "Our exceptionally shorthanded street and groundskeeper crews work on them on a rotation as quickly as they can. We also utilize inmate labor for this. Unfortunately, due to all of the rain we have had recently, weeds are popping up faster that we can get to them, but our crews do work on them as much and as quickly as we can."
There are consequences. Failure to comply with city ordinances regarding property and landscape maintenance shall be subject to a misdemeanor charge.
For a copy of the relevant ordinance, go online to the city's website, www.cityofkingman.gov. Click on the Departments tab and then Engineering. Under the Engineering Pages you will find "Codes and Regulations."