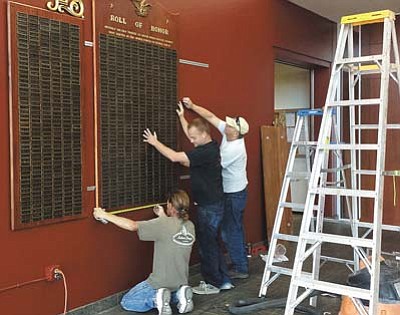 Originally Published: May 30, 2016 5:58 a.m.
KINGMAN - Today will be a day for remembering those fallen during America's wars past and present.
It all starts at 9 a.m. when a World War II memorial will be relocated from the County Courthouse on Spring Street to the lobby at the Mohave County Administration Building, 700 W. Beale St.
The dedication was made possible by the combined efforts of Kingman Marine Corps League, Det. #887, the Jerry Ambrose Veterans Council of Mohave County, Mohave County Board of Supervisors Chairwoman Jean Bishop, Kingman Home Depot and the patriotic citizens of Mohave County who have served and supported the armed forces of the United States of America.
About three years ago, the Marine Corps League came up with an idea to build a WWII monument as an addition to the Veterans Memorial Park inside Locomotive Park downtown.
Terry Flanagan, commandant of the Kingman Marine Corps League said that the original idea was to take the names from the plaque inside the old courthouse, engrave them in granite and add the monument next to the Vietnam and Korean War walls.
"We started a plan to raise funds to move it downtown," he said. "The money was too much to do it with granite."
When that proved too expensive, joint efforts between the league, veterans' council, the city and the county and Home Depot, a plan to refurbish the plaque in the courthouse was devised.
There have been some modifications, but Flanagan said it was for the better.
"Home Depot took nameplates off and put them in alphabetical order, resurfaced the wood and made it look pretty again."
The memorial has more than 1000 names of every known Mohave County military veteran who served in World War II.
"You might see what you consider prominent family names and Native American names," he said.
Hualapai Nation will be sent from Peach Springs will do a special blessing called 'The Cry to honor the veterans.
The groups usually organize Memorial Day events in Veterans Memorial Park, but due to the rededication, moved it to the administration building.
"Nobody could see the names in the old courthouse. You had to go through security. Now anyone can go into the admin building and see the names.
"It's something we set out to do and we did it. It is a piece of Mohave County history."
This restoration will be as a donation and to honor the memory of our WWII military veterans.
This event will be over prior to 11 a.m. as many other organizations will be conducting events. If you are planning an event, send the information to webwizard@javc.org.
World War II veterans planning to attend should RSVP to Pat Farrell at president@javc.org. Include your name, title, organization, mailing address and telephone number.
WWII veterans will be introduced to the audience.
All veterans who have served will also be honored.
Other organizations have events scheduled:
• American Legion Post 14, 225 E Oak St., (928) 753-3555, has a full slate of events starting at 6 a.m. in Mt. View Cemetery, where members will place flags on the graves of all veterans.
Legion members will also attend the memorial relocation at 9 a.m. in the county administrative building.
At 11 a.m. at Mt. View Cemetery, a memorial service for all veterans past and present who have died, from WW1 to the War on Terror, and for Legion and Legion Auxiliary "who have passed to the post everlasting."
At 1 p.m., a private barbecue will be held for members of the Legion family, including members of VFW.
Flags will be retrieved from Mt. View Cemetery at 5 p.m.
• Veterans of Foreign Wars 3516, located at 2826 Wikieup Ave. (928) 753-3040, plans a noon flag raising ceremony.
• Veterans of Foreign Wars 10386, 3036 East John L Avenue, (928) 757-9191, will hold a flag raising ceremony at 10 a.m.
• The Kingman Fire Department will be at Mt. View Cemetery at 7 a.m. for a flag raising ceremony and replacement of old flags on graves with new flags.
• Elks Lodge 468, 900 Gates Ave., (928) 753-3557. Members will place flags on the graves of all veterans at 6 a.m. and attend the ceremony at 9 in the county administration building.