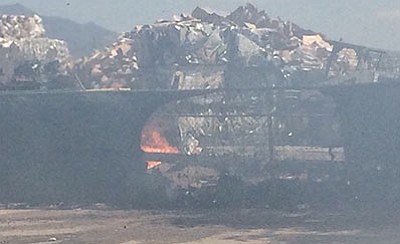 Originally Published: May 31, 2016 6 a.m.
KINGMAN - Sparks from a grinder ignited paper and cardboard at the Bulldog Disposal facility on Andy Devine Avenue Wednesday afternoon.
Kingman Fire Department crews responded, thinking it was a small brush fire that broke out behind the business at about 1:55 p.m. Instead, they found heavy smoke and fire in the recycling area, according to Assistant Fire Chief Keith Eaton.
The cardboard and paper were being prepared for sorting prior to shipping. Eaton said crews immediately attacked the blaze with a deluge nozzle, which is similar to a water cannon, and hand lines.
Reinforcements were called in after the fire began to enter a Conex container and spread "very close" to permanent structures, said Eaton. Three more engines and a rescue truck responded and Bulldog employees used heavy equipment to spread the cardboard and paper so firefighters could extinguish the fire.
The tentative cause was sparks from a grinder being used to cut a bolt.