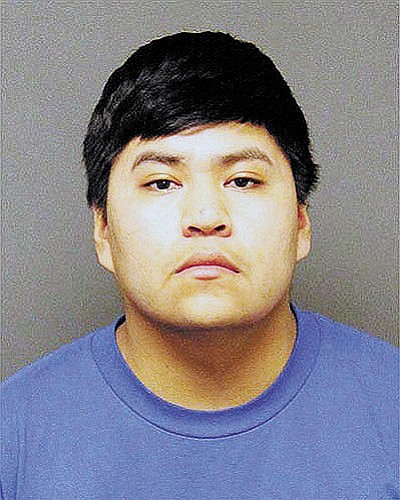 Originally Published: May 31, 2016 6 a.m.
KINGMAN - Judge Steven Conn made things as clear as a cloudless blue sky for an 18-year-old Kingman man accused of participating in a home invasion and robbery Jan. 27.
Ashlin Gene Whitesinger is going to go to prison whether he takes a plea deal or is convicted at trial. The only difference is the years of his life that will be spent behind bars.
Of course, said Conn, it's also possible Whitesinger would be acquitted at trial, but the state's case against him and two others is stout.
Conn will not hear the case against Whitesinger or those codefendants, Samuel Bravo and Andrew Granados, both 16. The judge temporarily stepped in Friday to conduct a settlement conference, which are designed to give defendants "the best possible" information regarding the charges they face and the penalties that are assessed if they are found guilty.
Whitesinger faces four counts of armed robbery, a count of kidnapping and three counts of burglary, all crimes that call for sentences between seven and 21 years and are not probation eligible.
He faces five counts of aggravated assault, which call for a prison term of five to 15 years with no probation eligibility.
Whitesinger also has been charged with theft of means of transportation and cruel mistreatment of animals. Car theft carries a sentence of two years to nearly nine years and the animal abuse charge carries a term of four months to two years. Probation can be granted in lieu of a prison sentence in these last two crimes.
Conn noted there was a single victim and suggested prosecutors might have overcharged Whitesinger and his codefendants, saying it was "kind of a liberal charging approach," but he also offered hypotheses on how the state might have broken down each offense that allegedly occurred into separate crimes.
Aiming a handgun at the purported victim more than once, for example, could be construed as two distinct offenses.
Whitesinger reportedly confessed following his capture and Conn said this is a critical consideration for the young man. If the confession was obtained through legal means - that is to say, that Whitesinger's rights had been read to him and he understood them - than it could be admitted as evidence at trial.
Without trying to sway the defendant one way or the other, the judge also made it perfectly clear to Whitesinger that if convicted he's going to prison, and maybe for decades rather than years.
Conn said prosecutors might "try to convince (Judge Lee Jantzen)" to impose consecutive sentences. If that were to occur, said the judge, Whitesinger and his codefendants could receive life sentences, particularly Bravo, who faces the most serious charge of attempted first-degree murder.
"The bottom line, if you are found guilty, you are going to prison," said Conn. "Potentially for the rest of your life. That's not likely, but it is theoretically possible."
Prosecutor Mark Barlow said the state offered a plea that has Whitesinger pleading guilty to one of the aggravated assault charges and to the cruel mistreatment animal charge.
The deal calls for Jantzen sentencing Whitesinger to a term of five to eight years in prison on the assault and three years of probation on the animal abuse charge, a sentence that would be served after he was released from prison.
Conn was critical of the wording in the agreement since it was unclear if Whitesinger, should he accept the state's offer, would have to serve any jail time on the animal abuse conviction once he's released from prison. The charge carries up to a year in county jail, but that sentence is not mandatory.
Also, while Whitesinger and Granados were charged with cruel mistreatment of an animal, the alleged victim in her statement to police said it was Bravo who injured her dog when he allegedly twisted the animal's leg, which damaged ligaments, and then threw it to the floor.
"I'm not going to tell you this is a great deal," said Conn. "It's hard to explain to someone who's 18 that going to prison for nine years is a good thing."
The defendants allegedly donned masks and gloves on the night of Jan. 27, when they entered the Fairgrounds Avenue home of a 46-year-old woman whose daughter one of them knew.
The victim told Kingman Police detectives that Bravo said the woman's daughter owed him $20. She said she offered to pay him the money, but Bravo, she said, forced her by gunpoint to her car. The group went to her bank and the woman said she withdrew $600.
The trio eventually left, but not before Bravo allegedly fired a .22-caliber handgun close enough to the woman that both of them thought she had been shot.
They allegedly stole jewelry and other items and Bravo allegedly injured her dog before the gunshot incident, which the woman said occurred in her bedroom after Whitesinger and Granados had left the home. Whitesinger and Granados were captured the next day. Bravo's mother turned him in on Jan. 30.
Whitesinger's next court date is June 15.