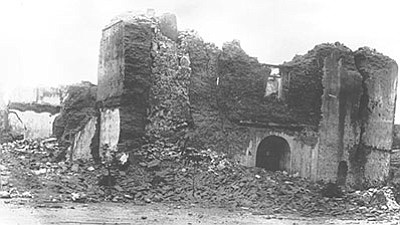 Originally Published: May 31, 2016 6:02 a.m.
"Earthquake cluster" has a fascinating (and terrifying) ring to it, but the cluster of quakes recorded recently in northwestern Mohave County has just been mildly interesting. Thankfully.
The last one recorded by the U.S. Geological Survey was a 2.7 magnitude quake on May 11 (UTC time). The highest the temblors have reached is 3.8 on the Richter scale on April 17 and May 5. The quakes are all 19 to 20 miles south-southeast of Bunkerville, Nev., and no reports of any damage, injuries or disturbances have come in, most likely because there aren't many (or any) people in that area to be affected, if they could even feel the quakes.
Seismically, Arizona is pretty stable, unlike our California and Nevada neighbors. But over the years, even the Grand Canyon State has been all shook up - a little bit, anyway.
Mohave Miner: Feb. 28, 1936
Slight Temblor Felt Here Monday
Last Monday a few minutes before midnight, Kingman and vicinity were visited with a temblor. It appears to have been almost entirely local, having been felt as far north as White Hills and east to Hackberry, but westward it was not noticed. Some close observers felt two or three slight quavers just previous to the final and more severe shock. Many sleepers were awakened throughout the city but no damage is reported.
Many who were downtown at the time thought it was an explosion of some of the power magazines adjacent but a quick visit to them found them intact. Some have inferred that it was a meteor striking near here as they thought it was preceded by a flash of light.
For the record, the USGS database shows three earthquakes within 30 miles of Kingman since 1931, and the one mentioned above isn't one of them. There was one in 1973, one in 2008, and the big granddaddy of them all, a 3.0 magnitude quake in 1987. The Kingman area has a 15.4 percent chance of a major earthquake in the next 50 years.
•••
Arizona has experienced one great big granddaddy of an earthquake in modern memory. It occurred on May 3, 1887, a 7.2 magnitude quake with an epicenter in Sonora, Mexico, about 40 miles south of where Douglas, Ariz., is today.
It was felt all across southern Arizona, as this account from the Tucson Star reports:
May 4, 1887
There was a sharp shock of earthquake felt here at 3:11 p.m., by the Belt Office tower. The vibrations were from north to south and lasted 20 seconds.
At San Carlos the shock lasted two minutes and a half, and the Indians were badly scared.
At Fort Apache, the shock was very severe, lasting fully three minutes. The goods on the shelves of the post sutler store were shaken to the floor, and considerable damage was done to the post buildings. The pendulums of the clocks in Globe stopped.
The impact was even more dramatic closer to the epicenter, and the quake changed the landscape permanently, both above and below ground. Thomas G. McGarvin researched and wrote about the monster quake in 1987 on its 100th anniversary for "Field Notes," a publication of the Arizona Bureau of Geology and Mineral Technology. He cited firsthand accounts that said there was a low rumbling, and then two strong shocks during which the ground moved for as long as 10 minutes.
People throughout the region ran into the streets, some fainted, and others were thrown to the ground.
Numerous rock falls were reported in the mountain ranges of southeastern Arizona and northern Sonora. Sparks from the crashing boulders ignited dry brush and grass, and fires quickly spread to the forests.
Nearly all the valleys experienced changes in water conditions. Wells that had been excellent sources of water went dry, whereas artesian conditions and temporary lakes were created in other areas.
One of the more colorful descriptions of the event came from Charleston, Arizona (near Sierra Vista), where "the walls of the saloon did a two-step and the floor did a shimmy."
Perhaps that's a better way to look at it. It's not an earthquake. It's just the Earth, dancing.