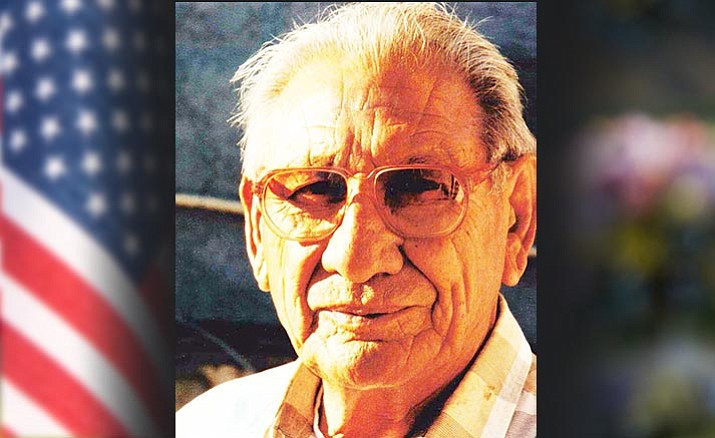 Originally Published: November 4, 2016 10:33 a.m.
Rod was born on March 13, 1924, in Santa Rita, N.M. He passed away Oct. 26 at University Medical Center in Las Vegas.
At age 18 he enlisted in the U.S. Army. He wanted to be a soldier and he wanted to serve his country. He was in World War II and was in the third wave on Omaha Beach in Normandy.
After serving his time in the Army he moved to the mining town of Goldroad, Ariz. He then moved to Kingman and got hired by the Ford Motor Company testing cars in Yucca. He loved working at the Ford Proving Grounds and stayed there until he retired in 1989. He was also a proud member of the American Legion.
Rod was preceded in death by his wife, Mary, of 58 years. He is survived by his daughter Lupe Haley and his son Henry Aguilar, along with his grandkids; Jennie, Anthony, Crimson, Ursus, Timber, Yvonne, Artie, Anna, Gina, Gilbert, and Dani, and several great grandchildren, nieces and nephews.
God and family were Rod's priorities in life. Many weekends were spent in the Aguilar family home listening to Rod play his guitar, along with many of his relatives singing and playing mariachi music. He also enjoyed camping and fishing and spending time at the different lakes in the Flagstaff and Williams area.
Visitation and a rosary will be held Sunday, Nov. 6, from 5 p.m. to 7 p.m. at Sutton Memorial Funeral Home. Funeral services will be at 10 a.m. Monday, Nov.7, at Saint Mary's Catholic Church followed by interment at Mountain View Cemetery.
A reception celebrating Rod's life will follow after the burial at Trinity Episcopal Church on Spring Street. In lieu of flowers, donations can be made to the American Legion.
More like this story