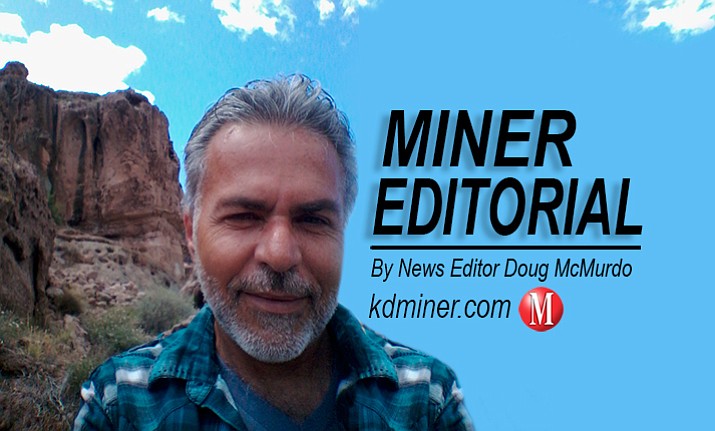 Originally Published: November 6, 2016 6 a.m.
Today is Sunday, and it is possibly the last quiet day we will see this week.
In two days, after millions of votes are counted, America will know who will be its next commander in chief.
Half the country will jump for unbridled joy. The other half will dive headfirst into the depths of despair.
And here in Kingman, after the dust settles, things will eventually get back to normal. The City Council will have three new members that have already won a seat so voters only have to decide who shall be mayor – incumbent Richard Anderson or challenger Monica Gates.
Councilwoman Jen Miles and Councilmen Mark Abram and Stuart Yocum will welcome Travis Lingenfelter, Jamie Scott-Stehly and David Wayt.
And while the newest members come in full of ideas and energy, their counterparts, those hardened veterans with at least two years of service under their belts, will be weighed down by the sometimes overwhelming burden of reality.
There are more than 300 employees and a dozen departments for City Manager John Dougherty to oversee, and every single one of them have serious issues to overcome – issues only the council can fix.
There are infrastructure problems across the city and Kingman's five-year capital improvements plan includes about half a billion dollars in needed improvements, particularly in eastern Kingman. Some people would call this a wish list.
Kingman Crossing and Rattlesnake Wash traffic interchanges are on the radar at a frightening cost. What can be done to make Kingman an inland port and oh, by the way, when will we do something meaningful to ease traffic congestion on Stockton Hill Road?
The pipes that carry water and sewage under Kingman are aged and breaks are not uncommon. There are wage and benefits issues, and about 15 boards or commissions to monitor.
The granddaddy of them all, however, is the never-ending battle to boost the sales tax. Tourists help and so do travelers, but never enough when sales tax is your only source of local revenue.
Meanwhile, the Mohave County Board of Supervisors, which is likely to have the same faces sitting in the same chairs after the election, will have an equally daunting task ahead of it as we move into 2017. While supervisors oversee the entire county and serve specific districts in it, there should be one overriding priority: Water. How do we reverse the shrinking basins that serve Kingman?
Sure, they have other important problems to tackle, but none of them matter in the least if they can't adequately address water usage – and not just the new farming operations that continue to drill wells in the region.
Over in Phoenix where legislators huddle to stitch together a budget and make law and do battle like siblings who really don't like each other, our District 5 senator and two representatives will have to fight like dogs to feed Mohave County the table scraps dropped on the floor by Maricopa County.
No matter who is elected president – my only hope is whoever wins, wins big – Kingman will wake up Wednesday morning with the same problems it had the day before, the week before, and the year before.
The president isn't going to fix them. Neither is Congress nor the Supreme Court.
The people we put in office here, in Kingman, will be tasked with that job.
They have their work cut out for them.